Ссылки
Using wildcards to create a group of similar servers or software (1861)
How do I create a group of similarly named servers, or servers running the same software? Use the percent (%) symbol as a wildcard character to filter the names of systems (or...
Download VMware Products | Privacy | Update Feed Preferences
Copyright © 2010 VMware, Inc. All rights reserved.

[Archived] Mouse and SVGA Drivers Fail to Uninstall from Virtual Machines with Windows NT 4.0 SP6a as a Guest Operating System (1003090)
For ESX Server 3 version 3.5 and later ESX releases, uninstalling VMware Tools from virtual machines with Windows...
Download VMware Products | Privacy | Update Feed Preferences
Copyright © 2010 VMware, Inc. All rights reserved.

KDE.News has a report from the first day of Camp KDE . " Saturday, the first day of Camp KDE 2010 in San Diego, started with a short introduction by Jeff Mitchell.
Unfortunately yesterday was my last day out at Camp KDE.  Vacation is sparse for me right now after blowing it all over the holidays and on the wedding and GCDS/Akademy.  So real life calls…
I neglected to post my slides in my day 1 review so here they are.  In case you didn't know from the Dot article my talk was about simple and practical ways to get involved in KDE.  The idea was that even if you don't know much about writing code (like me) you can still be a contributor in our community.  I provided information on  different areas that people can get started in and then listed the web sites to go to or people to contact to get up and running.  Getting people besides developers to help in these areas is critical.  It allows developers to focus on what they do best, writing code, rather than triaging bugs, writing documentation, doing user support, and so on.  As great as our developer community is we can't expect you to do ...read more...
Let me say it right at the start here: I really enjoy coding in C++. To some that makes me a very odd sort of animal, I know. (There are also probably more convincing reasons to consider me a very odd animal, but that's another blog entirely. ;) Still, despite my enjoying slinging C++ around, I also know that trying to insist that everyone else does the same is probably not the best thing for KDE. I believe that in 2010 we may see the "next step" in acceptance and adoption of languages-other-than-C++ around the KDE community and that it could be an important part of how things shape up this year.

There are two different topics here, really: in-application scripting and application development proper.


Creating Applications Without C++


We have some great language options for people writing KDE code, and have had for a number of years thanks to the foresight and diligence of the KDE Bindings community. We owe them a debt of gratitude for these efforts, because as a result of them we can ...read more...
The Netherlands has a "dichter des vaderlands", a national poet. I don't know if that would be comparable with a British poet laureate — perhaps because the Dutch one is primarily a product of a single newspaper / publisher. The conservative one, at that, but the national poet is tasked with doing whatever poetry demands. A little like a national ombudsman, I suppose. The current holder of the title is Ramsey Nasr, and his latest foray starts with (loosely translated): "So, Mr. Premier, how does it feel to lie // and then to see the same in print?" The Dutch version refers to the premier by his initials, JP. I'd pin this up as a testament to Free Speech in this country.
15 января Элизабет Крумбах (Elizabeth Krumbach) отправила сообщение в почтовую рассылку проекта Ubuntu Women в котором сообщила, что совет сообщества Ubuntu (Ubuntu Community Council) назначил её в качестве временного лидера проекта.
Элизабет занимается такими проектами, как US Teams, Pennsylvania LoCo, Community Learning Project, Ubuntu Classroom, BeginnersTeam и Women. Она участник Ubuntu Americas Membership Board, а с октября 2009 года была избрана в совет сообщества.
Ubuntu Women - это команда организованная в Ubuntu, чтобы привлечь женщин внести свой вклад в одноимённый дистрибутив Linux и сообщество открытого кода.
Hot on the wheels of our friends at KMyMoney, the Skrooge team releases a beta version of the upcoming 0.6.0 release. The goal here is, unsurprisingly, to find as much bugs as we can, and give translators a string freeze period until the final release (targeted for end of January).
With this version, we try to focus a bit more on documentation (it was already becoming quite obsolete), usability (we're not there yet, but it's getting better) and hopefully translations if possible. On the usability front, I'd like to thank all the people who took some time to give their feelings and idea. This includes Joanna Pierroz, a student in usability, who provided us with an extensive list of recommendations, people on various forums or by email.
Anyway, you can get it on the brand new Skrooge website. Of course, we're especially interested in getting bug reports and comments, so keep them coming
---
Update 17 Jan. 2010:
A new beta of Skrooge ...read more...
Dear Amarok and KDE users, I'm sure that you have heard of the terrible earthquake disaster that has happened in Haiti.
На днях у проекта Perl CPAN Testers возникли проблемы с доступом к сайту, зеркалам и базе данных. Как сообщалось в блоге - сервер был подвергнут агрессивному сканированию ботами (примерно 20-30 ботов каждые несколько секунд), которые полностью игнорировали правила в файле robots.txt. IP адреса ботов были идентифицированы, как 65.55.207.x, 65.55.107.x и 65.55.106.x, которые принадлежат компании Microsoft.
В настоящее время администраторами CPAN Testers был заблокирован доступ к сайту с этих адресов.
Another set of night hours spent hacking on making the GTK API wrap Qt. I focused on adding functionality and not on cleaning up, so no code this time either. I just want to show the progress.
Wrapping Qt in GTK might seem like an impossible task, but the fact is that both toolkits, in turn, wrap the same APIs themselves. So, how does the progress look this far?
Upgraded Hello World (link)
The first example, upgraded hello world, works like a charm and does what is expected. There is only one change that has to be made to the example, and the need for it will go away when I've started cleaning the code.
Changes made to the example:
Replaced the gtk/gtk.h headerfile with my substitute.
Table Packing Example (link)
...read more...
Effect of stopping VMwareVDMDS service on View 3.1 upgrade (1012990)
If you stop VMware View Connection Server and VMwareVDMDS service before upgrading to View 3.1, and if you try to create or edit desktop pools, the Administrator window shows the...
Download VMware Products | Privacy | Update Feed Preferences
Copyright © 2010 VMware, Inc. All rights reserved.

Effect of stopping VMwareVDMDS service on View 3.1 upgrade (1012990)
If you stop VMware View Connection Server and VMwareVDMDS service before upgrading to View 3.1, and if you try to create or edit desktop pools, the Administrator window shows the...
Download VMware Products | Privacy | Update Feed Preferences
Copyright © 2010 VMware, Inc. All rights reserved.

Today I celebrated my 18th birthday with a day full of awesome talks, and some fun times with my fellow campers. After a late start in the day, we headed down to UCSD minus one Troy, and got ready for Frank's keynote, which was pretty awesome. I think I'll be joining in on his BoF tomorrow, I think, if I'm sane and conscious.
Right now, I'm sitting around, watching everyone drink. Again.
=-=-=-=-=
Powered by Blogilo
Again, just track all the tweets and blogs to know what happens in Camp KDE in almost real-time. For more pictures, check out KDE Events Pool at Flickr.
In one of the talks today, Romain "Frankenstein" Pokrzywka showcased KDE 4 on Windows. Though he blogged about it recently, it is definitely interesting to see a live demo, especially things like Plasma running (and crashing, occasionally) on Windows, and that some apps are really usable already. Well, who knows? In the not so distant future, it is definitely easier to convince Window users like Joe Sixpack to start using KDE apps.
As you might now, we are currently porting KMail to Akonadi. The Akonadi-based KMail will be called KMail 2 and released together with KDE SC 4.5 if everything goes well.
Just a quick summary of what Akonadi is, for those who don't know: Akonadi is an abstraction layer/proxy and a cache for PIM data.
PIM data can by anything like mails, contacts or calendar entries, and they can come from different sources, like an IMAP server, a
local vCard file or an Exchange server. Akonadi provides an easy API for the client application developer to access that PIM data
in a transparent way.
This post is about Nepomuk, not Akonadi. Akonadi uses Nepomuk to index the mails. Basically this means every mail that was seen by the Akonadi cache is also indexed by Nepomuk. This makes some great features possible, which I'll describe below. With screenshots!
Powerful searches
The main benefit of Nepomuk is that we can do very powerful searches. KMail 1 had a search function as well, ...read more...
A lot of FLOSS mailinglists (including KDE's) are run by a software called Mailman. Now Mailman is great and all but it isn't exactly a dream to work with if you have to admin a mailinglist with it. And it gets worse if you have to admin more than one list with it.
Thankfully there is a great little program called listadmin that helps here. It is a command line tool that remembers the lists you moderate and their passwords and then just checks them for new emails or subscription requests you need to deal with.
This is what it looks like if there is a mail in moderation:

Of course I want to approve sebas' email (how could I not?
) so I say "a" for approve and then "y" to submit all the changes for this list: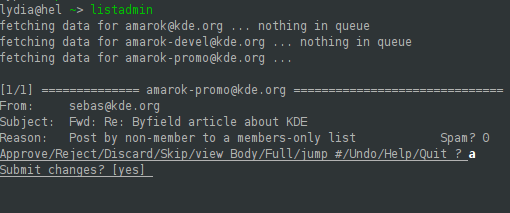 And done: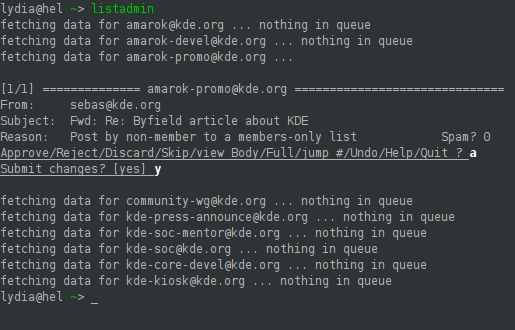 ...read more...
Top 5 Planet V12n blog posts week 02

It was a very exciting week as I announced that I will be transitioning to a new team. Of course that wasn't the only exciting thing this week. A lot of bloggers have been waiting for Eric Siebert to reveal the new Top 25 blogs... On twitter it was noticeable that some of the bloggers started to get nervous about their position. I am honored to be in such an amazing list. Anyway enough blabbering... check out the top 5:

Eric Siebert - And the winners of the top VMware/virtualization blog are…
Well I'm not saying, watch the presentation to find out, I'll be doing another post later on with the full results as well as some detail on the process I used to sort through the votes and score them to determine the winners. Congratulations to all the winners, there were many newcomers to the top 25 blog roll. I'll be ...read more...



Вышла в свет новая версия свободного IRC-клиента Smuxi.

Среди множества изменений можно выделить:

Базовую поддержку Twitter;
Улучшенную работу в медленных сетях и сетях с большой нагрузкой;
Улучшения по части IRC;
Улучшенное управление цветом надписей на вкладках - они будут оставаться читаемыми при используемой любой теме GTK.

Разработка Smuxi началась в 2004 году. Автор отмечает, что источником его вдохновения был клиент irssi, особенно классическая связка irssi + screen. Поэтому в Smuxi реализована интересная возможность запуска сессии на сервере (smuxi-server) и дальнейшего подключения к ней с помощью фронтенда (smuxi-frontend-gnome) без потери сообщений и соединений к IRC-серверам.

Программа написана на Mono и ориентирована на среду GNOME, исходный код доступен под лицензией GNU GPL v2.

Бинарные пакеты для openSUSE, Debian, Ubuntu, Gentoo, Arch Linux

Скриншоты




In KDE3 Kate had a plugin called "XML Completion Plugin". It was able to list XML elements, attributes and attribute values and entities in a completion popup menu depending on the currently active DTD. For instance, it was able to complete all your KDE/docbook tags and, thus, was one of the best tools for writing KDE documentation.

Unfortunately, this plugin has not been ported to KDE4, yet. So this is a request for developers: Please someone pick it up and make it available for Kate in KDE4.

The location in svn is: trunk/KDE/kdesdk/kate/plugins/xmltools
Just enable this folder in the kate/plugins/CMakeLists.txt file and start porting it. The code completion interface changed quite a lot, but there are other plugins and good api documentation (KTextEditor interfaces, Kate Application interfaces) where you can have a look at how things work.

Having a working XML Completion plugin for KDE4.5 would be awesome.



This is a bit of a personal entry, so please skip if you are not in the mood.

Today marks my one year KDE SVN account anniversary. I wanted to celebrate this a bit because it has been a difficult year for me and I would like to thank the community for the support during the more difficult moments (especially the CeBIT 2009 crew).

To many more years .




В обзоре представлены некоторые из книг, которые можно скачать из сети бесплатно. Для того, чтобы удовлетворить все вкусы, выбирались книги из широкого спектра тем, включающих в себя общее введение в Linux, книги, в которых описаны конкретные дистрибутивы или приложения, книги для программистов, а также книги, в которых освещается развитие бесплатного программного обеспечения. В оригинале речь, конечно, идет об англоязычной литературе, но переводчик добавил ссылки на имеющиеся переводы.




I'm pretty tired but I did upload new pictures and added descriptions to them. Find them here: http://picasaweb.google.com/jospoortvliet/CampKDE2010

A few highlights:



Chani being eaten by William





Till showing how you can give relaxed talks





The gang preparing presentations and mingling with the local crowd (while finishing my 1.75 litre bottle of rum. It was empty at the end of the night so saturday we bought two)






The crowd at the conference...





Hanging on the beach (friday during the day)





Tonight we had mexican food.




Woohoo, Camp KDE is finally here!  After a somewhat of a dizzying ride to find the building we eventually arrived…believe it or not there are something like 8 streets all called "Voigt Dr" on this campus.  Who designed this place? Geez!   Anyhow finally we found the meeting space and it's extremely nice.  All the high tech gadgetry you'd expect for a proper conference (check out Jos's entry for some pictures).

Today we got to listen to a whole bunch of great talks.  Early on we got a nice intro to the conference from Jeff and an update on KDE's growth in the past year.  We had a great keynote from Phillip Bourne on open access to data.  Especially interesting for me since I work in informatics…I might have to give his SciVee site a test spin next time I present a poster or something at a conference.  Then we got down to KDE business for the afternoon.  Everyone's talk was really great, ...read more...




В четверг глава проекта Firefox Майк Белтцнер заявил о том, что компания Mozilla собирается кардинально изменить подход к разработке своего браузера и исключить из графика релизов версию Firefox 3.7. Теперь изменения в функционале будут выпускаться вместе с обновлениями безопасности.

В прошлом году Mozilla планировала выпустить два промежуточных релиза – 3.6 и 3.7, интервал между которыми должен был составить четыре-пять месяцев. После этого в конце 2010 года должно было произойти "крупное обновление" - Firefox 4.0. Однако в процессе разработки Firefox 3.6 этот график решено было изменить.

Разработчики решили не ждать по нескольку месяцев для того, чтобы увеличить функционал программы. Вместо этого функционал будет наращиваться с каждым новым обновлением безопасности, которые выходят приблизительно раз в месяц.

Первое из таких обновлений получило кодовое обозначение "Lorentz".

Это обновление позволит отделить от браузера процессы работающих аддонов и плагинов. Первым кандидатом на отделение будет плагин Adobe Flash, поскольку именно он чаще других аддонов приводит к вылету Firefox.

Что же до выхода финальной версии Firefox 3.6, то он ожидается либо 19 либо 26 января.




Today i recieved an Tweet from Lydia Pintscher. Lydia wrote, that the KDE Project needs help.

What is to do? The goal is to find some simple data about KDE's programs following by a template and putting them on the wiki. She tells us, that Screenshots also needed. The community wiki has more details. It doesn't matter if you don't know all the data for a certain program. Fill in as much as you know.  If you have questions come to #kde-www on freenode or drop me an email at lydia at kde org.




If you don't have one yet, come find me. I think I've given out most of today's batch, but
I'll have more tommorrow.



Hola, amigos.  It's been a long time since I rapped at ya.  The standard statement of "I know I haven't blogged in a while, but…" really applies here.  My last posting was February, 2009.  That's almost a human earth year.  I mentioned my busy life on some of the KDE mailing lists (and tagged off to Troy), but to others I simply vanished.  And I'm sure there was much rejoicing.  What happened in Wade's version of 2009 to keep him away from his beloved community?

Weeks after Camp KDE in Jamaica, Sebas presumably won the laptop longevity contest.  He and I had purchased nearly identical Thinkpads years ago.  In February 2009, a cat who shall remain nameless who belongs to a wife who shall remain nameless – said cat knocked over a glass of water on my laptop sending it to an early grave.  One machine down.
Then my desktop PSU died and memory along with it.  Other machine down.
Next, I found out the hard way that Marcus Hanwell's wife Louise had a ...read more...



As tokoe prefers screenshots in blogs, let's start with one:

This is a screenshot of the current kdepimlibs build status on CDash. In the first column you can see the different build setups that have committed a build. There are builds from FreeBSD, SunOS, Linux, with different kind of CMake versions and differnt versions of GCC.

After that you can see the results of the different stages of the build: Update, Configure, Build and the Tests. The 'Min' column indicates how long that stage took. The most interesting column for me are the warnings in the build section. I'm trying to get that number down to the real warnings, removing all the non interesting warnings. On some line you can see 8 with -20 just below it. That means that in the last run the amount of warnings dropped from 28 to 20. Simalary you can see that there currently is a build error on one of the build machines…

CDash provides the possibility to subscribe to ...read more...




"Most comparisons of the KDE and GNOME desktops focus on usability and productivity apps.




Ссылки


Генерация: 0.231 сек. и 40 запросов к базе данных за 0.130 сек.
Powered by SLAED CMS © 2005-2007 SLAED. All rights reserved.