Ссылки
Configuring tape drives and media changers on ESX 3.x (1000024)
This article provides instructions for configuring tape drives and media changers so that the virtual machines on ESX 3.x hosts can access the devices.    Note: Fibre channel attached
Download VMware Products | Privacy | Update Feed Preferences
Copyright © 2010 VMware, Inc. All rights reserved.

… that the ~QX11PixmapData(): QPixmap objects must be destroyed before the QApplication object, otherwise the native pixmap object will be leaked. warning most KDE applications display when exiting is actually false.
The X server will cleanup any opened resources, including pixmaps, automatically when the client exits. This is much like how the kernel automatically closes files and memory allocations when an application exits.
(The QPixmaps in question are the ones cached by KIconLoader as best as I can tell. They are cleaned up, just not before QApplication's destructor runs.)

Hi all,

It's been a while since I posted a blog in the 'who is KDE' series (part 1, part 2). Meanwhile, there are of course still plenty of great blogs out there, and the ones I described last time might be worth revisiting.

This blog was prompted by me bumping into our cool buzz.kde.org site (which, btw, doesn't work properly in Chromium? Back to Konqi then..). A tweet in there pointed to this blog, in Polish (google translate here). It reviews a SVN version of the 4.4 release, mostly focusing on plasma stuff. But there is also news on KWin, Marble and Dolphin. My only gripe is that the author calls it Desktop Envirionment still - maybe I should comment on that ;-)

Now that the GSoC students have been chosen (see Lydia's blog, a ...read more...
Сегодня вышла новая версия реализации динамического, полностью объектно-ориентированного языка программирования Smalltalk от проекта GNU.
Основные изменения и новшества в данной версии:
Новая среда разработки VisualGST (gtk);
Возможность загрузки и установки дополнительных пакетов (.star) с официального сайта;
Портирована легковесная ООПБД SandstoneDb;
Инкрементальная сборка мусора;
Набор инструментов для профилирования;
Традиционные исправления ошибок.
В стандартную поставку GNU Smalltalk так же входят фреймворки Seaside и Magritte, многочисленные биндинги, интерфейсы к БД и многое другое
A while ago, we asked for designs to accompany our KDE Software Labels.
We've already got some excellent ideas on the wiki and there will be a Dot article quite soon with one last call for artwork and setting out the process for choosing the best. In the meantime, it's not too late to add your design.
If you submitted a design already, then hopefully you got a message from me thanking you and providing some additional guidance – in particular we'd like some horizontal web-banner like variations. If you are the Ivan who submitted an idea or you know who he is please get in touch (drop a comment here is fine or you can find my email address on the About page here). If you're about to submit a design please give us a way of contacting you.
Only a couple of hours before leaving for the KDE Finance sprint, I got this package on the mail. It was a gift sent by one of our users: The book is "C++ GUI Programming with Qt 4", and it will certainly be useful to us through this transition period to Qt4. I've already used it a couple of times, and I expect to read it fully over the next 2 months. Thank you! (you know who you are)
This is again a littlebit of a rant and hopefully a head up for people working on that stuff to eventually get the their stuff somehow working for KDE 4.5 and the next kernel releases.
Most of the time, I am working on windows nowadays during my day work (research). I am only using linux on my netbook (AsusEEE 1101HA) for some system administration and webdesign tasks, but that more and more starts to suck. I know I am partly to blame my self, because I am using openuse factory and kde unstable from the OBS.
Things that suck:
*) I have to disable ACPI (grub acpi=off) with recent kernels (2.6.34-rcX) to get the kernel booting at all (kernels < 2.6.30 appear to work.)
--> No battery status
*) After the login Plasma (just one directory view) and one konsole window take around 3 minutes to show up on screen and start getting usefull. During that time dbus-deamon and plasma-desktop have an equal share of around 45% CPU load.
*) Once KDE is up and running,
...read more...
Stu is awesome and because he's awesome he wrote a nice wrap-up of the successful SoK 2009 projects for Google's Open Source blog. Go and read it and see the cool stuff that has been done last year.
This is the package our 4 successful students received: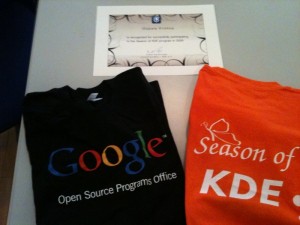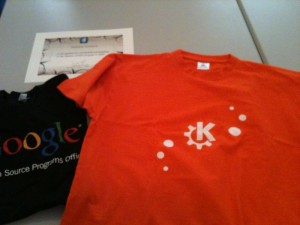 Thanks a bunch to Giulia, ruphy and sheytan for designing the shirt and certificate and Claudia and Torsten for getting them printed and shipped.
Oh and btw: I'm still looking for more mentors – ping me!
Qmmp — лёгкий проигрыватель с поддержкой скинов Winamp 2, написанный на Qt. Версия 0.4.0 является первой в новой ветке и обладает рядом интересных изменений по сравнению с 0.3.4:
добавлена поддержка обложек;
добавлена поддержка ReplayGain;
добавлен api для внешних плееров;
добавлена поддержка ogg flac;
добавлен модуль уведомлений KDE4, а у иконки в трее будет всплывающая подсказка;
добавлена поддержка нескольких списков воспроизведения.
Также было частично переписано звуковое ядро, улучшена работа с cue и многое другое.
Известная служба открытой разработки ПО SourceForge представляет новый сервис под названием Downloads. Ранее, если вы хотели распространять свои программы через сеть зеркал SourceForge, но вести разработку в другом месте, вам, так или иначе, приходилось регистрировать полноценный проект со всеми его службами для совместной разработки. Теперь в этом нет необходимости, потому что SourceForge Downloads предоставляет вам лишь самое необходимое: новый файловый менеджер, статистику загрузок, а также участие в рейтинге самых популярных проектов.
Выгода от этой инициативы для SourceForge состоит в том, что на странице загрузки будут демонстрироваться рекламные баннеры. Команда SourceForge.net честно предупреждает, что не все баннеры могут нам понравиться, но гарантирует, что на них не будут демонстрироваться телесные выделения и издевательства над инвалидами.
KMyMoney is now in string-freeze in preparation for the release candidate of version 3.98, which we expect to RC1, on May 15th. Almost exactly one year after we started the work on porting KMyMoney to KDE4, we will release a version deemed stable enough for general use.
Just finished editing a dot story on Choqok (will go live sometime next week). Some of you might have noticed the initiative by its main developer Mehrdad Momeny to speed up development by soliciting monetary input. This will allow him to spend more time on making Choqok rock, but also give users a tangible way of influencing development priorities. This can increase commitment from the users, developers and the community - while bringing real benefits (in terms of code).

The KOffice developers recently did a similar thing, calling upon individual sponsors to help make Krita better. Instead of taking a summer job, Luk


Speaking of how software makes you dependent on other people , the newest Ubuntu Long Term Support release just came out.
Osmos - небольшая расслабляющая казуальная двухмерная инди-игра с метарейтингом 80% на Metacritic. С 28 апреля список поддерживаемых игрой платформ пополнился Линуксом.
Osmos проста в освоении (поглощай тех, кто меньше тебя, избегай тех, кто больше тебя), имеет приятную графику и отличное музыкальное сопровождение. Насилия нет, можно давать играть детям.
Игра проприетарная, платная, есть воможность скачать демо-версию (видео с геймплеем демо). Стоит $10, при этом покупатель получает версии для GNU/Linux, Mac и Windows. Те, кто покупал Osmos для других платформ раньше, может получить GNU/Linux версию бесплатно.
Microsoft опубликовала свой код в дереве разработки популярной CMS-системы с открытым кодом Joomla! версии 1.6 и подписала соглашение для контрибьюторов (Joomla! Contributor Agreement, JCA).Разработчик Joomla! сообщил, что уже долгое время сотрудничал с Microsoft по разным техническим аспектам в этой CMS. В частности, так появился пакет Joomla! для инсталлятора WPI (Web Platform Installer), который скачали более 32 тысяч раз, а также проводились улучшения в Joomla! для запуска на веб-сервере IIS.Ожидается, что на этом сотрудничество не остановится, и представители Microsoft будут продолжать вносить свой вклад в Joomla!.. В частности, команда разработчиков IIS из Microsoft уже добавила в текущую разрабатываемую версию Joomla! — 1.6 — код для интеграции с WinCache.Впрочем, стоит отметить,...
Основные изменения:
Добавлена поддержка X-сервера 1.7.x
Улучшена производительность в приложениях требующие старшие версии OpenGL, например таких как Unigine Heaven
Официально поддерживается Ununtu 10.04 LTS (драйвера есть в официальном репозитарии Ubuntu)
Мелкие багфиксы
К сожалению, X-сервер 1.8 не поддерживается и скорее всего не будет поддерживаться в ближайшем будущем.
One of the best initiatives at FOSS Nigeria was the founding of the PyKano Python user group.
It is open for anyone (with a focus on people in Nigeria). The intent is for people interested in Python to have regular local meetings but also discuss on-line. If you happen to be interested in programming and in the region, join the group!
Ceci est un test d'
Как известно, игровая консоль Sony PlayStation 3, продажи которой начались более трёх лет назад, имела возможность установки альтернативной операционной системы. Этим пользовались для установки на неё Linux. С сентября 2009 года Sony продаёт модифицированную модель PlayStation 3, в которой, в числе прочего, отсутствует поддержка установки альтернативной операционной системы. Недавнее обновление прошивки для всех модификаций PlayStation 3 (версия 3.21), в том числе купленных до сентября 2009 года, отключает такую возможность. Отказ от обновления прошивки приводит к недоступности следующих возможностей:
Доступ к сервису PlayStation Network
Запуск програмного обеспечениия и проигрывание видео на Blu-ray дисках, требующих прошивку не ниже версии 3.21
Проигрывание с медиа серверов защищённого видео контента
Использование новых возможностей или улучшений, появившихся в версии 3.21 или выше
В связи с этим группа пользователей, во главе с адвокатом Ребеккой Колл подали коллективный иск против корпорации Sony в окружной суд южного округа штата Калифорния.
Sony объясняет свой шаг вопросами безопасности. По мнению Pietro Macchiarella из Parks Associates они боятся волны пиратства после публикации в январе этого года эксплоита для гипервизора PlayStation 3.
In my last post, I gave some background on what a shared-memory cache is, and how KDE already uses one (KPixmapCache) to save memory and make the desktop more efficient. I also noted how the current implementation leaves some things to be desired, and hinted at a new implementation I was working on.
In this second part, I'll discuss some of the basic design principles of the new class, which I called KSharedDataCache.
Why a new class?
If you didn't read Part 1, you may be wondering why I don't just fix the current implementation, KPixmapCache, instead of writing new code. It's a good question, but the short story is that due to the public API used by KPixmapCache, it is non-trivial (to say the least :) to improve KPixmapCache and take some necessary steps to improve its performance. The penalty of getting it wrong is pretty severe as well, as there have been probably hundreds of reported crash bugs already due to KPixmapCache.
So, someone on IRC gave me the idea that, why don't I just make my ...read more...
Since forever (where we define the start of time to be when I started working on Plasma) it has been possible to run Plasmoids, or any widget that Plasma can display, in a window on its own using plasmoidviewer. It isn't completely satisfactory for running widgets in a window, though, because at its heart plasmoidviewer is a development tool meant for testing and debugging Plasmoids.

(By the way, did you know that there are similar apps for DataEngines and Wallpapers? plasmaengineexplorer and plasmawallpaperviewer.)

Marco worked up a small proof-of-concept app in playground some time ago that lets us run Plasmoids in windows slightly more satisfactorily. Here's a shot of a clock and the microblogging Plasmoids running with a Konversation window in behind and the pretty KRuner window nearby:




Right clicking on a Plasmoid gets you the usual suspects in the context menu along with a "Quit" entry that quits that Plasmoid. What's really cool is that they all run in the same process, keeping overhead down. Now, the goal for this ...read more...
Исправления и улучшения:
Добавлена поддержка следующих GPU:

GeForce GTX 480
GeForce GTX 470
Tesla C2050

Исправлена ошибка, вызывавшая периодическое мигание кадров XVideo красным цветом.
Официальная поддержка xserver 1.8. Для данной версии сервера не требуется опция -ignoreABI.
Обновлен список «Поддерживаемые NVIDIA GPU», теперь он включает поддерживаемые графические процессоры, отсутствовавшие в списке прежде.
Right from the time I found about the Gluon project (which I found on the GSoC ideas page), I've been very excited and having loads of fun with the Gluon team (as usual :)
I'm happy to announce that the Plasmoid has taken its first step, displaying a Gluon example game on an OpenGL rendered Plasma applet. The applet is a Plasma::GLApplet which uses the Gluon Framework to create game graphics and output game audio alongwith support for input.
Here's a screenshot (yes, the transparency is a bug)-
Three-Tier SAP SD Benchmark on vSphere 4 Supports 16,000 Users

The first SAP Three-Tier SD benchmark on vSphere 4.0 was recently completed and published by Fujitsu.  The published results of this test highlight support of an impressive 16,000 users with a SAPS rating of 87,800.  This shows that large numbers of SAP users can be supported in a virtual environment spread across many hosts while providing good performance. 

Eight Fujitsu Primergy servers with Intel Xeon 5500 series processors were used to host 14 application server VMs and one database server VM.  The details about this test are in a benchmark report that was put together by Fujitsu and VMware.  The official SAP benchmark site also has added this new result to the Three-Tier SD Benchmark results.


...read more...



Wow, what an awesome development cycle! The Lucid Lynx has matured to a ripe old age of 10.04 and now brings you 3 years of support through free security and maintenance updates for your desktop. The Kubuntu team, as well as the entire Ubuntu community, did an awesome job this cycle and my hats off to each and every one of you, job well done friends!

Some new things for this release include:

New branding
KDE Plasma Desktop 4.4
An official Kubuntu Netbook Remix featuring KDE Plasma Netbook 4.4
Amarok 2.3
Installer slideshow (I did the text, so read it! Let me know how horrible it is and we can fix that up in future releases)
KDE integration for Firefox

One mission down, many more missions to go. Next mission, Kubuntu Maverick Meerkat! That's right, cat with a 'K'




Proftpd - квоты и авторизация из файлов, без использования базы данных и/или системных пользователей



DevConf 2010 — профессиональная конференция, посвященная ведущим технологиям программирования и веб-разработки. Конференция проводится 17 мая 2010 года в Крокус Экспо (м. Мякинино, Москва)

Оргкомитет конференции предлагает одно бесплатное приглашение на выставку для участников форума Linux.org.ru. В розыгрыше могут принять участие пользователи, зарегистрированные до 15-го апреля 2010 года. Участник будет выбран случайным образом 10-го мая.

Для участия в розыгрыше, пожалуйста, подтвердите участие нажатием кпопки

Пожалуйста, не нажимайте кнопку если вы не имеете возможности/желания посетить данную конференцию.




The Kubuntu team is proud to introduce our latest release: 10.04 LTS, the Lucid Lynx! This is our first Long Term Support release featuring the KDE Plasma Desktop.




Troubleshooting errors resulting from non-ASCII names (1003866)

· Importing a virtual machine fails. · VMware VirtualCenter fails to start. · Unhandled exception: not well-formed (invalid token). · P2VError UFAD_SYSTEM_ERROR(Invalid response code:

Download VMware Products | Privacy | Update Feed Preferences
Copyright © 2010 VMware, Inc. All rights reserved.





Overview of migration compatibility error messages (1003684)

· Errors or warnings appear during the compatibility check of a virtual machine when attempting to do a migration. This article is an index of compatibility messages that may be generated

Download VMware Products | Privacy | Update Feed Preferences
Copyright © 2010 VMware, Inc. All rights reserved.





Ссылки


Генерация: 0.207 сек. и 40 запросов к базе данных за 0.121 сек.
Powered by SLAED CMS © 2005-2007 SLAED. All rights reserved.