Ссылки
Акция "Humble Indie Bundle" («скромный набор инди-игр») собрала более миллиона долларов (четверть этой суммы поступила от пользователей Linux), и её организаторы, студия Wolfire, вложившие в набор свою игру Lugaru, решили полностью открыть её исходный код под лицензией GPL.
«Сообщество наших пользователей уже сделало несколько отличных модов, изменяя уровни и графику, но доступ к исходному коду позволит делать куда более существенные модификации,» - пишет в блоге Wolfire Дэвид.

Репозиторий mercurial в настоящее время поднимается Райаном Гордоном на его сайте icculus.org, а пока все желающие могут скачать последний снапшот с сайта разработчиков (ссылка в подробностях).

Кроме того, по итогам акции было принято решение открыть исходный код и других игр, участвовавших в акции: Aquaria, Gish и Penumbra: Overture. Сегодня, 11 мая 2010 года, их разработчики пообещали в ближайшее время выпустить исходный код своих игр в полном объеме под свободными лицензиями (см. http://www.wolfire.com/humble).
Саму же акцию решено продлить ещё на четыре дня: в это время все желающие могут выразить свою признательность, приобретя набор игр и распределив свой взнос между разработчиками игр и благотворительными организациями (им на нынешний ...read more...
10 мая 2010 Canonical представила на саммите разработчиков Ubuntu в Бельгии новый DE под названием "Unity". Первая версия Ubuntu, в которую будет включен новый DE, выйдет в свет в октябре этого года, и будет называться 10.10 Netbook Edition. Данный DE ориентирован на нетбуки и устройства с сенсорным экраном. Он включает в себя новую панель и запускалку программ, ориентированные на скорость и удобство доступа к основным приложениям.
Одновременно с этим, Canonical анонсировала Ubuntu Light - разработку Ubuntu, основанную на Unity, и представляющую собой урезанную версию системы, нацеленную на устройства, которые предоставляют доступ к основным программам без запуска основной операционной системы(например Microsoft Windows). Данная версия включает такие необходимые программы, как чат, IM, браузер и медиа-проигрыватель. Ubuntu Light доступна уже сейчас для OEM-производителей.
Politics politics. Here in Waloonia we have to spreak French, walk half a kilometre north and you are barred from speaking French and have to speak Dutch. Go a further kilometer north and you're in Brussels where you have to speak French but in practice everyone spreaks English. And they manage this all without bothering to have a government. Almost as crazy as home where the old prime minister resigned to make way for a posh English chap who will doubtless steal our milk and make us pay a poll tax. Really I should have been in London tonight to visit Buckingham palace and put myself forward for the job of Prime Minister and had the chance to found the Pacifist Free Software Kingdom of Scotland (plus southern principalities), but I missed my chance all because I'm at the Ubuntu Developer Summit planning the next six months of Kubuntu.
We've had a guests from a couple of my favourite companies here for the first couple of days. Thiago and Jergen from Nokia's Qt dropped by to convert the world to ...read more...
Exchange 2010 Scale-Up Performance on vSphere
In order to provide some performance guidance for the new Microsoft Exchange Server 2010 on VMware vSphere 4, a series of tests were run in the VMware labs.  The first set of these tests involved a single Mailbox VM that was scaled up from 1 vCPU to 8 vCPU with a range of memory sizes.   This blog article will take a look at the results from these tests to understand how Exchange 2010 performs in a VM.  Additional blog posts will look more closely at these 1 VM tests as well as another set of tests that used up to four mailbox VMs to test Exchange 2010 performance in a scale out model.
Configuration
The server used for the testing was a Dell PowerEdge R710 with two Intel Xeon X5570 quad-core processors and 96 GB of RAM.  An EMC Clariion CX4-960 storage array was used to provide fibre channel based storage.  A development version of VMware vSphere 4 (build ...read more...
Hello to all digikam and KDE fans!
My name is Gabriel Voicu, I am 20 years old and I come from Bucharest, Romania where I'm studying Computer Science and Engineering at University Politehnica of Bucharest. I enjoy programming, playing basket-ball and spending time with my girlfriend.
I was very happy when I saw that I was accepted to this year Google Summer of Code with the project "Reverse Geocoding and Improved Map Search" because I consider this feature very useful when talking about images geotagging.
4 мая на официальном форуме проекта http://forum.mandriva.com появилось сообщение с выдержками из протокола совещания руководителей компании от 24 марта 2010 года, в котором раскрывалась информация о готовящейся продаже компании в связи с финансовыми проблемами. В качестве наиболее вероятных покупателей называются английская компания LightApp и французская Linagora. Позже информация о переговорах была подтверждена на сайте http://www.mandrivalinux-online.org. Данный шаг рассматривается как единственная альтернатива закрытию компании.
>>>Ссылка на оригинальный тред.
По данным сайта Mandriva Linux Online, французская компания Mandriva в поисках вариантов продажи бизнеса.Причины весьма банальны — финансовые проблемы. В истории компании такое не впервые — например, в 2003 году тогда еще MandrakeSoft находилась в сложном финансовом положении, однако уже в 2004 году ей удалось достичь определенных успехов и расплатиться с долгами. Последние экономические проблемы в Mandriva начались в 2008 году, а в 2010 — только усугубились. И судя по всему, нынешняя ситуация такова, что приведет к продаже компании.Среди основных претендентов на покупку Mandriva называются британская LightApp и французская Linagora. Сообщается, что в Mandriva уже ведутся активные дискуссии с этими компаниями по вопросу возможной сделки.
As requested on my earlier blog post here is a guide on how to install scripts in Amarok:
Written version:
Start Amarok
In the menu bar select the Tools menu and there the Script Manager entry
Click the Get More Scripts button towards the bottom of the dialog
Install some script
Quit Amarok
Start Amarok again
(some scripts you will have to activate in the script manager afterwards)
Have fun!
Доступен предзаказ на новую игру от Frictional Games (разработчики Penumbra) - Amnesia: The Dark Descent. Предзаказ доступен с 50% скидкой от конечной стоимости игры, т.е. сейчас стоимость составляет $10.
Если разработчикам удастся собрать до 31-го мая 2000 предзаказов, то в игру будет включен дополнительный контент (сейчас предзаказов ~1900+).
Видео игры доступно по адресу http://www.youtube.com/v/JEHPwAvrc_U
Installing VMware Tools manually in a Fusion virtual machine (1003417)
You may need to manually install VMware Tools if the installation does not start automatically, even when triggered from the Virtual Machine menu.   This article provides the
Download VMware Products | Privacy | Update Feed Preferences
Copyright © 2010 VMware, Inc. All rights reserved.

EMC World day 1 - VPLEX, Joe Tucci & Michael Capellas drop by, and an interesting private cloud TAB
Day one at EMC World kicked off today. The day had what was to me a bit of an odd structure, with a product announcement to the press, a keynote that really didn't go into the announcement, and then two more keynotes and an executive panel in the afternoon. 
Here are some pix from the conference:
The big EMC news today was VPLEX, a new federated storage product that, in its current incarnation, should let you VMotion a single virtual machine or an entire data center across 100km or so. It's new enough - even a new category? -- that even the EMCers seem to be struggling to define it succinctly. 
После продолжительного периода разработки вышла новая версия кластерного ПО для управления виртуализированными системами KVM/Xen - ganeti 2.1.2.
Из новых возможностей следует отметить возможность запуска KVM систем не под пользователем root, возможность преобразовать существующие LVM тома в управляемые ganeti, преобразовывать LVM тома в реплицируемые по DRBD и обратно.

Ganeti позволяет при помощи простых команд управлять кластером серверов, выполняющих виртуализированные системы KVM/Xen с репликацией данных по сети при помощи DRBD. Используется в Google для слабонагруженных систем - DNS, DHCP, NTP, etc. (http://ganeti.googlecode.com/files/Ga...)
No, we do not skip March, for Kexi it was just too silent month to blog about it alone
Here we go (based on identi.ca notes):
Follow-up on the SQLite the secure delete thing: Oh boy, the guys rock - they have implemented all my requests for 3.6.23. We're going to recommend this version at least.
Fixed visibility of form widget properties in the designer; that was really obscure bug
Kexi 2.2 beta 2 arrives in 2 days with KOffice 2.2 beta 2, please test! Yes because of quantum leap there's no Kexi 2.0 nor 2.1 in the ...read more...


Today at the Maverick Ubuntu Developer Summit (USD) I gave a quick demonstration of a project I have been working on for the next Kubuntu version. It is a DBusMenu-based implementation of a global application menu. This is a feature which was in KDE 3.x but has not yet been ported to 4.x.
Here is a screenshot of Dolphin running with its menu embedded in a Plasma panel.
The nice thing about this implementation is that it takes advantage of DBusMenu: GTK+-based applications running on a KDE desktop will be able to get their menubars displayed in the Plasma panel. Same thing for KDE applications running on the GNOME desktop. My colleagues are busy finishing the GTK+ implementation right now.
The Plasma Menubar widget also features a "Button form factor". Enabling it turns the menubar into a "Menu" button, saving a lot of space in the panel. This makes it possible to pack both the Menubar and the ...read more...
Clementine - музыкальный плеер и органайзер музыки. Он создан с целью воссоздания Amarok 1.4 на Qt4.
Основные возможности:
Поиск и воспроизведение музыки из локальной коллекции
Работа с интернет радио с Last.fm и SomaFM
Поддержка плейлистов M3U и XSPF
Редактирование тегов mp3 и ogg файлов, реорганизация музыкальных файлов
Загрузка обложек альбомов с last.fm
Кросплатформенность - работает в Windows, Mac OS X и Linux
Использование родной системы уведомлений на Linux и Mac OS (Growl)
В версии 0.3:
плеер полностью перешел на GStreamer на всех платформах,
добавлен эквалайзер,
больше опций для работы с библиотекой,
улучшен OSD,
дистанционное управление с консоли и MPRIS,
улучшен редактор тегов.
Чейнджлог
The full program for Akademy 2010 in Tampere, Finland July 3-11 2010 is now available.
The conference talks this year promise to be extremely excellent. We had over 90+ excellent submissions to select from. Unfortunately we only had 38 speaker slots to fill* and many excellent talks could not fit into the program. Many of these talk topics will be featured in BoFs later in the week.
Also remember to register and get your travel requests in as soon as possible.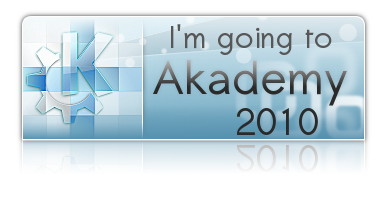 * By the way, this is less than 50% acceptance rate. In many ways this is good because it guarantees many high quality talks!
The Skrooge team announces release of Skrooge 0.7.1, bringing the usual load of bugfixes and new features. Please note that this version requires KDE SC 4.4.x minimum, since we are using the excellent work from John LAYT on currencies, available from 4.4.0.
Also, for packagers, there is no direct dependency to SQLite anymore... SQLite is still needed, but the dependency is satisfied by the standard Qt SQLite driver.
Features
Use standard KDE dialogs for password management
Applet for dashboard to display tip of the day
CSV import of splits and transfers
CSV import is able to oncatenate many attributes in "comment" or "payee"
CSV import can import unknown attributes as properties
Export XML
"Search & Process" is able to search, update, insert and delete properties
All currencies are now available in unit page
Open property picture associated to an object
Customisable date formats
Bugfix
EMC World 2010 - let's talk private cloud - live streaming

[Executive summary: We'll be blogging about private cloud for the next three days here at EMC World 2010. Stuck at your desk? Follow along with EMC World 2010 live video from SiliconANGLE's #TheCube.]

I'm here in Boston to attend EMC World 2010. The theme, plastered everywhere at the venue and across the city (that's a sign at the taxi stand at Logan Airport over to the right) is "The Journey to the Private Cloud Starts Now." Thousands of infrastructure geeks are here to get their EMC on, and I'll be covering the more-virtualization-related activities at the conference.

I'm very interested in what people are thinking now about private cloud and if it's starting to make sense to them. Sometimes I see people have made it easy on themselves by just ...read more...




Robert Lange has announced the release of VectorLinux 6.0 KDE-Classic-Live edition, a live CD featuring the legacy KDE 3 desktop: The VectorLinux team is happy to announce the release of VectorLinux 6.0 KDE-Classic-Live. KDE 3 veterans will appreciate that this release retains the solid KDE 3.5.10. There are many updates compared to the original, ...




Don't know if you noticed, but our friends from the Haiku project released the second Alpha of their operating system.

Haiku is a FOSS operating system inspired by BeOS. It's not very useful as of yet, but it shows good progress. Haiku is also proof that C++ can work in the kernel.

Haiku (and BeOS) is noteworthy in a KDE context simply because pretty much all the Nepomuk tries to achieve BeOS already did 10 or more years ago.

Among other things, new features compared to include a WebKit browser, WLAN support, and internationalization support.

And now fire VirtualBox up and give Haiku a spin.

=-=-=-=-=
Powered by Blogilo


...read more...



8 мая вышел стабильный релиз 23.2 замечательного редактора Emacs.

Изменения:


Добавлены новые флаги сборки; опции влияющие на загрузку Х-ресурсов, опция максимизирующая фрейм; максимальный размер буферов удвоен, на типичной 32-битной системе буфер может достигать 512Мб. Изменено значение `trash-directory', теперь `move-file-to-trash' удаляет файлы в соответствии со спецификацией freedesktop.org.
Emacs может использовать системный моноширинный шрифт Gnome. Если в системе изменяется этот шрифт, Emacs также будет использовать изменённый шрифт. Эта возможность требует включения поддержки Gconf при сборке, которая включена по-умолчанию, если configure находит gconf библиотеки.
В X11 Emacs теперь реагирует на изменения конфигурации Xft. Это включает в себя: antialias, hinting, hintstyle, RGBA, DPI и lcdfilter.
"Unibyte-сессии" теперь считаются устаревшими. Добавлена новая кодировка "utf-8-hfs", которая является кодировкой по-умолчанию для работы Emacs с файлами в Mac OS X.
Добавлена новая команда `async-shell-command', глобально привязанная к `M-&'. Вызов запускает указываемую команду асинхронно.
Если запускается достаточно новый xterm (новее версии 242), Emacs берёт цвет фона из настроек xterm, устанавливая при необходимости контрастный цвет шрифта для тёмного фона.
Проведён ряд изменений связанных с `kill-ring': добавлены новые переменные; появилась возможность прдотвратить потерю скопированного текста из других программ в буфер обмена при вызове kill- команд; предотвратить ...read more...



Continuing from the saga I started some time ago, at least now I got to the point where it's rendered anti-aliased in full color:

Stay tuned, I'd clean-up and release the code soon-ish.




I've just made a new version of Grantlee available for download. This release contains two minor fixes and one workaround for a bug (or feature?) in WebKit.

I noticed when running Grantlee unit tests against Qt4.7 that they were segfaulting on exit if they used scriptable tags. After a debugging session I'd narrowed it down to just creating a QScriptEngine in a plugin will cause a crash. Qt4.6 didn't show the same behavior, so I thought there would be no more for me to do.

Unfortunately the segfault was caused by the fact that JavaScriptCore in WebKit was not designed to be loaded (and unloaded) in a plugin. Interesting place for a Grantlee bug to end up, I thought. That meant that it would not be directly resolved in Qt4.7.

The workaround is to build in support for QtScript template libraries directly into the grantlee_core library instead of loading it in a plugin, which is the behavior as of this release. Hopefully that's a temporary workaround.


...read more...



Generating a Palapeli puzzle requires one to slice the image into jigsaw pieces. I had no clue how to write a good slicing algorithm for Palapeli. Several tries showed that I am not particularly good at this stuff. Because of that (and because I want more puzzles with obscure piece shapes), I made the puzzle generation extensible: You can write your own slicing plugins for Palapeli. (There's even a tutorial on Techbase, if you are interested.)

My evil plan worked out: Johannes L




So it has been a few days since Part 2, where I promised I'd talk about some issues that go with using pointers in shared memory, initial cache setup, and my arbitrary methods I use to handle various scenarios.

Pointing to things in shared memory

First I'll talk about pointers. Essentially all you need to know about them is that a pointer holds a memory address, namely the address of the data you're really interested in.

Now, every process in modern operating systems has its own "address space", which defines where things are in memory. So, memory addresses in process 1 have no relation to addresses used in process 2, or any other process.

What this means for shared memory algorithms is that you cannot use normal pointers, since they rely on pointing to a specific spot in a process's address space. See below for an example:

Three KSharedDataCache-using processes are running, and let's say that kcalc was the first to create that cache, so ...read more...




We pleased to announce our new openSUSE Weekly News #122.

http://news.opensuse.org/2010/05/08/opensuse-weekly-news-122-is-out/

Content

* 1 Editors Note
* 2 Announcements
o 2.1 openSUSE 11.3 Milestone 6: The Dust Begins to Settle
o 2.2 openSUSE News: Updates Go Twitter
o 2.3 openSUSE News: openSUSE@LinuxTag 2010
* 3 Status Updates
o 3.1 Distribution
+ 3.1.1 Thomas Biege: SELinux and openSUSE 11.3 Milestone 6
+ 3.1.2 Bugzilla
* 4 Team Reports
o 4.1 Boosters Team
+ 4.1.1 What are the Boosters up to?
+ 4.1.2 Changes in Staff
o 4.2 Build Service Team
+ 4.2.1 Build Team Meeting
+ 4.2.2 OBS 1.7.4 …. your weekend present
+ 4.2.3 Build Service Statistics
o 4.3 Mono Team
+ 4.3.1 Miguel de Icaza: MonoDevelop's New Search Bar
o 4.4 openFATE Team
+ 4.4.1 Andreas Jaeger: Preparation for Mounting /var/run as tmpfs
+ 4.4.2 Clean temporary data in SUSE
+ 4.4.3 Rename chromium
+ 4.4.4 improve system administration from ...read more...




Сегодня, с выходом GTK версии 2.21.0 было объявлено, что предстоит еще один, последний релиз в ветке 2.х - версия за номером 2.22. Это значит, что никаких новшеств привноситься в этой ветке не будет. Отныне в нее принимаются только баг-фиксы.

Уже не первый год ведется работа над исключением из программ, входящих в состав GNOME, использования упраздненных библиотек и функций (http://live.gnome.org/LibgnomeMustDie). Ходило множество слухов вокруг GNOME 3.0, но из развеяли (или подтвердили) на странице http://live.gnome.org/GNOME3Myths.

Для тех, кто не в теме, предлагается сходить на страницу http://live.gnome.org/ThreePointZero/.... Здесь крупным планом рассказывается про планы и ожидания от новой ветки развития GNOME.

Для всех интересующихся более детальными подробностями процесса эволюции к 3.х ветке, есть Roadmap - http://live.gnome.org/GnomeMarketing




Well, coding officially starts on May 24, now is time supposed to read documentation, know your mentor(s) and discuss the project ideas, needs, requirements, difficulties, etc. but as many other GSoCers I couldn't resist to code something.

My goal for the last week was to write a very simple Qt application showing the power of Grantlee. The idea was to simulate that I am reading a message in Kmail and I want to change the theme again and again.

You can take a look at the code in the soc-pim branch or:

svn co svn://anonsvn.kde.org/home/kde/branches/work/soc-pim/kdepim/examples/mail_grantlee/

Of course, you need to install Grantlee, before compiling the example:

git clone git://gitorious.org/grantlee/grantlee.git
cd grantlee
git checkout -b 0.1 origin/0.1
mkdir build && cd build
cmake ..
make && make install

Here some Kmail themes. I'm not an artist, so don't expect too much, but I know some CSS and started creating the themes just for the example.

Фонд свободного ПО (Free Software Foundation) запустил проект по формированию библиотеки свободных расширений для офисного пакета OpenOffice.org.

Исполнительный директор FSF Питер Браун (Peter Brown):

OpenOffice.org — это свободная программа и важный вклад для сообщества свободного ПО. Однако, программа предлагает пользователю библиотеку расширений, некоторые из которых являются проприетарными. Таким образом, распространение OpenOffice.org в его нынешнем виде является также и предложением установить его несвободные расширения.

Дело в том, что представители FSF обращались к Собранию сообщества OpenOffice.org (OpenOffice.org Community Council) с предложением хотя бы уж разделить существующий список расширений на два: свободные и несвободные, чтобы пользователи имели возможность сделать осознанный выбор, однако те, по какой-то причине, отказались что-либо менять.

FSF просит добровольцев помочь в составлении списка на специально созданном wiki.

Проект ставит перед собой такие цели:

Дать пользователю возможность, лишь слегка изменив конфигурацию программы, устанавливать на свой компьютер только свободные расширения.
Начать разработку свободных замен для несвободных расширений.

Желающие также могут обратиться к OpenOffice Community Council и объяснить им в чем они не правы (вежливо) :-)

>>> Адрес проекта. ...read more...




Ссылки


Генерация: 0.262 сек. и 40 запросов к базе данных за 0.129 сек.
Powered by SLAED CMS © 2005-2007 SLAED. All rights reserved.