Ссылки
Чуть более месяца назад открылся новый проект Art for Code (арт в обмен на код), призванный исправить не слишком хорошую ситуацию с наличием доступных 3D моделей в распоряжении инди-разработчиков и open source сообщества в целом. Как и следует из названия, главная цель - дать возможность художникам и программистам (в первую очередь, разработчикам игр) взаимно помочь друг другу.
Буквально, идея заключается в следующем: художники составляют список улучшений, которые бы они хотели видеть в известном пакете 3D моделирования Blender (например, поддержка импорта/экспорта в указанный формат файла, улучшения пользовательского интерфейса, итп.). Любой желающий, которому под силу справиться с указанной задачей, может получить в качестве вознаграждения за её решение 3D модель, анимацию или текстуры (каким именно будет вознаграждение следует оговорить заранее с художником). На данный момент имеется 10 задач разной степени сложности.
The IFOSSLR — the International Free and Open Source Software Law Review — has published issue #3. The IFOSSLR is the only journal dedicated exclusively to Free Software legal issues. While I was the FTF-Coordinator at the FSFE it was great to see the careful legal thought put into all kinds of issues (from trademarks to license assignment to risk assessment). It's important to have an understanding of the legal issues around Free Software (both development and deployment) that is business compatible. That's not to say that the interpretation is adapted to suit the desires of business — no, it means that the understanding is formulated in a way that businesses understand. It's quite important to state cause and effect or obligations and rights carefully so that businesses understand what to do and how to do it right. After all, most Free Software developers want everyone to play by the rules set out in the license.
Sometimes what's necessary from a business standpoint isn't what we'd like from a Free Software perspective, but there's ...read more...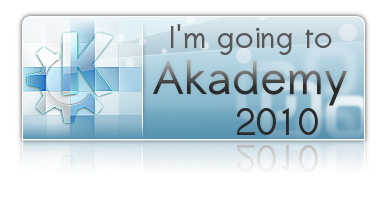 With the big show now only just over two weeks away I wanted to take the time to pimp the programme by talking about the tracks and the talks I am planning to see.
Community

Community is at the heart of KDE. This year it was particularly popular with many talks being submitted. As a result we managed to almost get a day-long track out of it. The track covers community management theory, technologies and legal issues. I'm looking forward to Thomas and Celeste's talks.

Mobile

You might have noticed… Mobile phones are becoming an important platform for KDE. Recently we have seen both KOffice and KDEPIM as well as other parts of KDE SC. I am looking forward to talks from Till Adam, Artur Duque de Souza and Alexis Menard

Development

Want you mind blown by the technical prowess of one of our gurus? This ...read more...



Cold migrating a virtual machine fails with the error: Failed to connect to host (1005892)
· Unable to cold migrate a virtual machine · Cold migrating a virtual machine fails · You see the error: Failed to connect to host · In the vpxa.log file
Download VMware Products | Privacy | Update Feed Preferences
Copyright © 2010 VMware, Inc. All rights reserved.

Enhanced VMotion Compatibility (EVC) processor support (1003212)
Enhanced VMotion Compatibility (EVC) simplifies VMotion compatibility issues across CPU generations. EVC automatically configures server CPUs with Intel FlexMigration or AMD-V Extended
Download VMware Products | Privacy | Update Feed Preferences
Copyright © 2010 VMware, Inc. All rights reserved.

I started coordinating the plasma project's activity at this year's Akademy. In support of this, I started a page on our wiki and a thread on our mailing list. For Plasma contributors, there's a topics area on the wiki page where we are building a list of the topics the various people attending want to address while we are there.

More interesting to the rest of the KDE world (or so I hope :) is the Plasma Frenzy we're planning. Just as we did in 2008 (I missed the 2009 Akademy, sadly), it will be a series of quick presentations, each 3-10 minutes long and about a different aspect of Plasma that we are working on. Anyone doing something interesting with Plasma who will be at Akademy is welcome to present what they are doing, and everyone who is interested in Plasma and wants to keep up with our latest twists, turns, blunders and/or brilliance is welcome to join us in the (hopefully participative) audience. It looks likely to be scheduled right ...read more...
Вышла новая версия одного из популярнейших мультимедиа-плееров под Linux — VLC 1.1.0
В новой версии:
GPU и DSP–декодирование (на некоторых платформах);
Новые кодеки;
Расширения на Lua;
Переработанный внешний вид;
Переработанный вывод видео;
Некоторые модули удалены, некоторые переписаны;
Новая libVLC.
Last week, Krita development really picked up, and if today's commit rate is anything to go buy, this week will be just as good! We had fifty commits in week 24. Our bug count is now 58, but that's after Sven Langkamp closed half a dozen bugs today. People seem to like Krita 2.2 and do very nice work with it. If you give 2.2 a try and you experience a problem, please inform us about it. There's a very cool and handy Report Bug menu option in the Help menu!
Lukas worked on better support for Photoshop brushes and some refactoring of the spray brush. Read his blog!. Our Google of Code students have been busy as well. Adam has been working on the layout for the new color selectors. Dmitry Kazakov has moved mountains with some big refactorings to make Krita thread-safe and much faster: he will blog tomorrow, he promised! Marc Pegon has started fixing bugs in the transform tool. And finally, Pentalis has been ...read more...
"So as you might have heard KDE is going to host its own git infrastructure. This means that the projects currently on gitorious will have to be moved one by one.
I've spent the last few weeks in London with Keith Whitwell and Jos
Kubuntu Tutorials Day is back, and this time it's with special guest star speakers.
Hi all,

Again a little call for help...

Pretty picture
Soon, there will be a new release of our bunch'o'stuff ("KDE SC 4.5). We need a pretty picture for our blogs ;-)

Writing
If you're a writer, we're always looking for new authors. I've often have magazines ask me if I know anyone, you can even make a buck that way. Let me know!

book
The KDE promo team has worked on a booklet with information about the KDE community and our products for a long time. It's mostly done but needs 2 things: someone to push for finishing it, and someone to do layouting. If interested in either or both these tasks, let me know...

openhatch
Some of you might know Openhatch. It's a cool way to help people get involved in FOSS projects. We do have a little presence there, but there could be a lot more. Anyone up for being the official openhatch manager? Contact kde-promo to coordinate ;-)
В рамках проекта Google Summer of Code, разработчик PiTiVi Thiblahute добавил в приложение возможность применять различные эффекты к видео дорожкам. Как он сам пишет в своём блоге: "Оно всё ещё немного глючное, не сильно эргономичное, но это уже начало!"
Посмотреть на это в действии можно на YouTube. В ролике демонстрируются случайные эффекты и их применение на видео дорожке.
От себя могу добавить, что количество и настраиваемость эффектов оставляет желать лучшего, но это уже что-то. Надеюсь, скоро подтянутся разработчики VLMC.
Желающие могут взять исходный код с github.
Beside exploring San Diego, I had done some coding intermittently only. My apology if I do not update X2 with fresh new examples often enough.
Having said that, here is one network-related example: a minor tweak to the previous example of Qt-based proxy server. Basically it adds a minimalistic URL filtering support, in the form of blacklisting certain URLs which start with some predefined strings. The code is available in the usual place, X2 repository, under the directory network/filterproxy.
While major browsers support some variants of content blocking, be it via an extension like AdBlock or as a feature built-in into the browser itself, this new filterproxy should work with any browser that supports proxy. Alas, I did not bother to implement an AdBlock-compatible rule system because it would complicate the code. Again, consider this is a proof of concept only. A challenging exercise would be to fully support the most known subscription filters.
It is unheard that content filtering can dramatically improve your browsing ...read more...
Since I've not been blogging for a while, let me do a post on some pictures (plus the stories) instead.
On a weekend, Balboa Park is a very nice attraction. Rather than explaining it in details, I suggest to just drop the park a visit. Beside a lot of different types of museum, there is also this Japanese Friendship Garden. A small cafe there, the Tea Pavillion, is a very nice place to relax and enjoy the surrounding. They serve sencha and other types of tea. Hungry? Get a rice bowl:
If you are more a beach person instead, then there is a plenty of choices, for example Silver Strand Beach. It is rather small, but it is always a nice spot to enjoy the sunset.
...read more...
Top 5 Planet V12n blog posts week 24

As it was fathers day yesterday and I also had to fly out to London I totally forgot to hit the "publish" button. I did however create a Top 5:

David Davis - VIDEO: Mike DePetrillo speaking on VMware vCloud
One of the most controversial parts of Mike's presentation is when he says that vCloud is really sold to the CIO and the message to the IT group is that you will have to change in order to keep your job. In other words, "the cloud" will assimilate the infrastructure as we know it and IT people will have to adapt to that, improving their skill set, in order to move to different roles in the IT organization where they can accomplish the more important IT projects with real ROI (not just maintaining the SAN LUNs, or whatever they do). Watch the video to hear the vCloud message for yourself… Note: Mike doesn't show ...read more...



Today at 1045 hrs, the board software upgrades were rolled out for public release. This is a feature addition and bug fix update.

Changelog:
* Added guided posting utility (view)
* Added a more prominent global PM notification
* Added a What's new notification for new members
* Updates to KDialogue, the engine behind the forum's KDialogue and KDE Contests areas.
* Numerous performance fixes.

Please report all bugs at bugs.kde.org under the component forum.kde.org.
You can find the official announcement here: http://forum.kde.org/viewtopic.php?f=4&t=88621

Enjoy!




Hi, this is a reminder that the KDE Translation teams are always looking for new contributors, so even if you do not know how code you can help translating the KDE Software to your mother tongue or some other language you are fluent in and make a difference.

This is actually a good moment to join, since the KDE Software Compilation 4.5 sources are frozen for new messages so new messages are going to be introduced before the release and also the release date is close enough (1 month approx until tagging) that you will see your effort be released really soon.

One of the teams specially looking for contributors is the Gujarati team, that met the essential requirements to be shipped with KDE SC for 4.4 but does not to 4.5

And remember, even if the statistics say a team has 100% of the stuff translated, there is always room for reviewing so your help will still be welcome.

So start your e-mail ...read more...



По информации очередного еженедельного дайджеста разработчиков KOffice работа над входящим в состав пакета редактором векторной графики Karbon прекращена в связи с уходом из проекта его единственного разработчика Яна Хамбрехта.

Последние годы за вычетом участвующих студентов GSoC Ян был единственным разработчиком Karbon, внёсшим весомый вклад в его развитие. Таким образом Karbon становится уже третьим неподдерживаемым приложением в этом офисном пакете; первыми двумя являются редактор блок-схем Kivio и редактор формул KFormula.

Если вы хотите заняться проектом, подробности можно обсудить на канале IRC #koffice (FreeNode) или в форуме.




First post with WordPress 3.0 – fingers crossed but so far it looks good!

I've learned a small detail today – QFtp requires login even if you do not have any username or password to give the server. Saves some time from debugging time knowing that calling login once fixes this. (Yes, me stupid)

For those of you learning Qt or wanting to get started with Qt, I will hold a session on the Kubuntu Tutorial Day. I hope to see you there!

Also, great rainy weekend. Got loads of stuff done ranging from catching up on some work to restructuring parts of the garage.




Во всех школах на территории Российской Федерации обязательным требованием является установка Контент-Фильтра для фильтрации сайтов "несовместимых с задачами образования".

Для этих целей использовался СКФ, но 3 недели назад при штатном обновлении СКФ самостоятельно заменился на систему NetPolice.

При внедрении Школьного Linux в Нижнем Новгороде вопрос наличия Контент-Фильтра является одним из основных. Система NetPolice существует и в варианте для Linux и имеет репозиторий специально для Школьного Linux.

К сожалению, на сайте NetPolice приведена инструкция по установке и настройке системы лишь для Школьного Linux 4.0, которая не полностью подходит для 5ой платформы. Мы постарались исправить эту ситуацию.




I decided to move my general ramblings you all know and love to my posterous blog. Why you ask? well I like the fact that I can throw stuff in there via email with awesome results.

This will help me post more often I bet, I may even start posting small audio thoughts or podsafe music since the RSS feed encloses audio content right off the bat (still thinking about it).

My main site will still be guillermoamaral.com but it will only host official news about yours truly, talk dates, live recordings, video appearances, etc.

P.S. still plowing through the emails sent to me about my shows, thank you all of you who wrote in with comments and suggestions ( you know who you are ).

 




Controlling LUN queue depth throttling in VMware ESX for 3PAR storage arrays (1008113)

· If the ESX host detects a queue full condition, it may abort the SCSI commands · Queue Full may show up as QFULL or Task Set Full state · If QFULL conditions

Download VMware Products | Privacy | Update Feed Preferences
Copyright © 2010 VMware, Inc. All rights reserved.





When I started blogging in the end of last year, I thought I would write much more frequently than I do: if only I had better marketing habilities, there would certainly be many more posts about what's going on the Ark, KDE's beloved archive manager, and KDE on FreeBSD fronts. At least I seem to be in good company in the occasional bloggers department.

Over the last few months (actually, for the last 1 or 2 release cycles at least), Ark has not received many feature additions (half of our open bug reports are wishlist items -- I'll never get tired of saying that many of them are quite easy to implement and are good junior jobs in case you are looking for a way to get into KDE development). Lack of time from both Harald (who, by the way, is finally getting his university degree one of these days) and me is not the only explanation, though: this may sound weird, but whenever ...read more...




Yesterday, I've released VMPK 0.3.2 with a new D-Bus interface. VMPK is not a KDE application, it uses only Qt4, so a D-Bus interface wasn't included by default. This VMPK feature is far from perfect, and it will require some improvements in future releases, but it is a start.

What can be done with this D-Bus thing? D-Bus provides a mechanism to send and receive messages between processes (it is an IPC, inter process communication mechanism). This allows one application to be controlled from another one, or from a script. This is the classic application automation scenario solved in Windows with COM/DCOM, and in Mac OSX with AppleScript. D-Bus is a cross platform solution, with nice Qt4 bindings: the module QtDBus. The Qt4 SDK for Windows doesn't include this module, and anyway the bus daemon and libraries are external dependencies. D-Bus has been adopted in Linux by the KDE and Gnome desktops replacing other former solutions.

As use case demos, in a directory named "dbus" of the VMPK source ...read more...



Это первый релиз Kerrighed, основанный на ядре 2.6.30 (так что теперь можно будет разворачивать кластеры на новом железе, которое не поддерживалось предыдущей версией с ядром 2.6.20). Кроме того, существенно переработана архитектура Kerrighed, и теперь рабочее окружение запускается в легковесных линуксовых контейнерах (что, правда, влечёт небольшие дополнительные расходы на уровне 1-2%). Основные усовершенстования коснулись системы заморозки и перезапуска работающих программ (checkpoint/restart) и, само собой, исправлено большое число ошибок.

Напомню, что Kerrighed - это кластерная операционная система, относящаяся к типу так называемых Single System Image (SSI). Это означает, что с его помощью сеть компьютеров, объединенная в кластер, выглядит как одна большая машина, и процессы, запущенные на одном из узлов, могут свободно перемещаться на другие узлы. Кроме того, Kerrighed поддерживает (как уже говорилось) механизмы checkpoint/restart и общую глобальную память.

Список кластеров под управлением kerrighed и их описание




Planet, my slave went awry :(I terminated the processes, but is there a way to kill all the notifications at once.



Интернет-компания Google анонсировала выпуск инструмента с консольным интерфейсом для работы со своими сервисами — GoogleCL.GoogleCL полностью написан на Python и использует библиотеки gdata для обращения к Google Data API из командной строки. Сервисы, поддерживаемые в GoogleCL на данный момент: Docs, Contacts, Calendar, Picasa, Youtube, Blogger.Например, для загрузки каталога фотографий на Picasa достаточно ввести команду:$ google picasa create --title "My album" ~/Photos/vacation/*.jpg Более того, с помощью «google docs edit» можно, например, редактировать документы в консольном текстовом редакторе вроде vim.Логично предположить, что GoogleCL будет активно использоваться в операционной системе Chrome OS для удобной привязки к сервисам Google через командную строку Linux.Goo...



Авторы популярного JavaScript-фреймворка для создания графических веб-приложений Ext JS сообщили об объединении с проектами jQTouch и Rapha



Ссылки


Генерация: 0.234 сек. и 40 запросов к базе данных за 0.139 сек.
Powered by SLAED CMS © 2005-2007 SLAED. All rights reserved.