Ссылки
Ah well, today marks a month since the official GSoC coding period started.
Brief intro: I'm working on implementing automatic tagging of faces for digiKam, with face detection and recognition. For that, I've been working on a library named libface that does the detection and training/recognition.
At some point, it was deemed necessary to make a Qt wrapper for libface, so that Qt/KDE programs could easily use it. This has been now (almost) done, and the resulting library is named libkface. libkface will be put somewhere in kdegraphics/libs as soon as the API freeze is over (I think), and will be usable not only by digiKam, but also by other programs like KPhotoAlbum.
We're also going to keep the lib(k)face database in a shared directory, so that all programs that may use it can share the same training data. That way, a user migrating from digiKam to KPhotoAlbum (hypothetical, with face recog) would not have to retrain libkface with his entire collection.
In branches/extragear/graphics/digikam/libkface/test/gui/, I have made (with help from Alex) a simple GUI for playing with libkface:
I am very excited by the Qt Quick technology and I have finally found a reason to use it and gain some experience with it and want to report from my first hours of exploring it. The first time I have seen Declarative UI was with Enlightenment and the Edje framework. I liked it so much that I registered Epicenter five years ago. The plan was to create a handheld framework using declarative UI.

Now Qt Quick is not just a copy cat of Edje but adds some nice improvements over it. The first one is the usage of Javascript instead of the C like language, better integration with Qt's Object Model (properties) and libraries/plugins. From my observation at Openmoko, our developers kept a set of C preprocessor macros around to do coming things with edje with Quick it seems to be better as one can import libraries and such.




The most common mistake I have made so far is dealing with the width/heigh of an Item. In my case I created an Item, placed a MouseArea

...read more...


Сегодня, 23-го июня, увидела свет очередная версия интегрированной среды разработки Eclipse — 3.6 под кодовым названием «Helios».
Новые возможности включают в себя следующее:
Поддержка архитектур: новые архитектуры Windows x64 и PowerPC 64, более тесная интеграция с Windows 7 и Mac OS X;
Общие изменения: фильтры ресурсов, виртуальные каталоги, история инсталляций, использование WebKit в качестве встроенного браузера, встроенный агрегатор новостей, полная поддержка установки UNIX-прав для файлов, улучшения в подсистеме справки;
Java Development Tools (JDT): улучшения в детектировании и автокоррекции ошибок, рефакторинге, форматировании кода и в навигации по коду; улучшения в отладчике; отображение аббревиатур вместо полных имен пакетов; более информативный Javadoc; улучшения в интеграции с JUnit;
Plugins Development Environment (PDE): отчеты об используемых API; конфигурирование на основании «features»; консоль OSGi;
Коллективная разработка: многочисленные улучшения в инструменте «Apply Patch»;
Платформа Equinox: Equinox Weaving (инфраструктура для модификации загружаемого байт-кода, например, в целях реализации AOP); мультисессионная консоль Equinox;
SWT: поддержка Mozilla на платформе Solaris/SPARC; поддержка иконок внутри поля ввода GtkEntry (для GTK+ ...read more...


Вчера, 22-го июня, состоялся выпуск пакета проприетарных драйверов видеокарт NVIDIA для ОС Linux версии 256.35. Это — первая версия драйверов серии 256, имеющая статус «официальный»; предыдущие версии относились к категории «beta».
Из нововведений стоит отметить следующее:
полная поддержка новой архитектуры NVIDIA Fermi;
поддержка OpenGL: OpenGL 4.0 (для современных видеокарт), OpenGL 3.3 (для legacy-карт), OpenCL 1.1; поддержка готовящегося к релизу CUDA Toolkit 3.1;
множество исправлений ошибок, касающихся 3D Vision, панели управления (nvidia-settings) и прочего;
серьезно доработана подсистема VDPAU: добавлена поддержка Xinerama, появилась возможность использовать VDPAU совместно с CUDA и OpenGL;
некоторые библиотеки были переименованы для более комфортного сосуществования реализаций OpenGL от NVIDIA и Mesa;
в инсталляторе отныне используется сжатие bzip2 вместо gzip.
NVIDIA — мировой лидер в производстве графических чипов для видеокарт. К инновациям NVIDIA последних лет следует отнести популяризацию GPGPU как платформы для научных вычислений, развитие технологии CUDA и продвижение 3D Vision на десктопы и в домашние кинотеатры. Поддержка оборудования NVIDIA в Linux традиционно осуществляется либо полнофункциональным, ...read more...
Canonical design team занимается не только добавлением нового функционала в интерфейс, но и улучшением существующего. В результате тестирования Ubuntu на удобство использования команда выяснила, что основные проблемы — это :
Совместимость со стандартами
В первую очередь, совместимость с MS Office. Пользователей заботит вопрос "насколько ODF подходит для документооборота?". Другой вариант этого вопроса: "Когда кто-то получит от меня документ — увидит ли он его в том же виде, в каком этот документ вижу я?". Поиском ответа команда, видимо, займётся в ближайшее время.
Недостаточная наглядность интерфейса
Как отметил один из участников: "Система должна иметь возможность сообщать, что она сейчас делает. Потому что у меня возникает ощущение что она повисла, или упала, и непонятно, что мне вообще делать"
Сленг, жаргон, термины
Пользователи признаются, что они, как новички или неподготовленные пользователи, ещё на этапе установки Ubuntu сталкиваются с вопросами, на которые они просто не могут дать ответа, потому что не понимают, чего от них хотят. Один из пользователей сказал, что слова "терминал" и "сервер" отбили у него охоту устанавливать Ubuntu. Слова 'Gwibber' и 'broadcast' тоже входят в этот список.
Есть ещё один пункт списка: установка и ...read more...


In openSUSE's KDE team, we've recently planned the migration to Akonadi, the groupware caching solution that will be the base of upcoming KDE PIM versions, notably KDE's address book, email client and calendar app. With the release of KDE SC 4.4, we've seen the first component being ported to Akonadi, KAddressbook, spearheaded by its fearless maintainer Tobias K
Выпущена финальная версия браузера Mozilla Firefox 3.6.4. В Firefox 3.6.4 некоторые плагины, а именно Adobe Flash, Apple Quicktime и Microsoft Silverlight в среде Windows или Linux выполняются в изолированном процессе. Это значит, что Firefox 3.6.4 будет продолжать работать даже при аварийном завершении работы этих плагинов. Если плагин завис или упал, это не повлияет на остальную часть Firefox. Вы сможете перезагрузить эту страницу, чтобы перезапустить плагин и попробовать открыть её снова.
В Firefox 3.6.4 также устранены несколько критических уязвимостей в системе безопасности, а также исправлены некоторые проблемы, связанные со стабильностью работы.
Two upcoming (in the fall, that is) conferences of note whose calls for papers are still open.
FSCONS: the Call for Papers is open until June 30th. FSCONS is a tremendously fun conference because it's not just software technology, but Free Culture and other things. That means that there is more scope for learning (well, this is important for me) things outside of software. The compressed earth brick machine made a lasting impression on me last year, for instance.
NLUUG fall conference: the topic this (half) year is Security in all its aspects. You could talk about security from a systems administration perspective (for KDE, for instance, managing trust in a global distributed project with only occasional face-to-face contacts) or programmatically (for KDE again: what to do with Plasmoids and mitigating whatever security risks they might bring). This CfP is open until July 12th.
Enabling IOAT and Jumbo frames (1003712)
This article provides the different ways to enable IOAT and Jumbo Frames.   IOAT IOAT currently has experimental support in ESX 3.5 and is not supported in ESX 4.0. IOAT v1 is a chipset on the motherboard that
Download VMware Products | Privacy | Update Feed Preferences
Copyright © 2010 VMware, Inc. All rights reserved.

Mouse does not work inside virtual machine when MouseWorks is installed (1002909)
· Kensington MouseWorks 6.2.2 is installed in the virtual machine · The mouse does not work in the virtual machine after installing MouseWorks · The mouse works
Download VMware Products | Privacy | Update Feed Preferences
Copyright © 2010 VMware, Inc. All rights reserved.

Mouse not working after installing VMware Tools in converted virtual machine (1003665)
· Your mouse stops working in a converted Windows virtual machine after installing VMware Tools. · VMware Tools is causing a conflict with mouse drivers. · You are
Download VMware Products | Privacy | Update Feed Preferences
Copyright © 2010 VMware, Inc. All rights reserved.

На фоне многочисленных спекуляций на тему «катастрофического финансового положения Mandriva» и задержки релиза Mandriva 2010.1 французский электронный журнал LeMagIT сообщает, что Mandriva спасена новыми инвесторами. Журнал в своей статье цитирует Arnaud Lapr
Been meaning to do this for ages, so i shall start with an introduction. I am David Hubner, I have taken over maintainer of KInfoCenter and have rewritten if for KDE SC 4.5. I also wrote the Device Viewer in KInfoCenter and the new Summary Information page. The new Summary Information Page is what I would like to talk about. Hugo Pereira Da Costa has supplied two great patches to do with UI consistency, the first has been submitted but I would like KDE users opinion on the second. I like to get opinions before making large UI changes, so from the two images below, could you do me ( and KDE ) a favour and comment on which you prefer.
Type1:
Type2:
...read more...
Can Ruby do for Qt and KDE application development what it did with Rails for web development? With the Qt on Rails project we're attempting to achieve this - using the clean domain logic and conventions of Rails combined with the brilliant application framework and widget set of Qt.
So our cool booth dudes and dudettes are regularly hard at work at booths on tradeshows, telling people about our great community.

I've been there many times, and there are a few thoughts I'd like to share. This isn't just meant as a how-to or a finished plan but also to start a discussion - we can improve in some area's and why not discuss it in public so anyone can weight in and add comments ;-)

So here a few insights from others and me since the last happening at Linuxtag:



first of all, the booth must be clean. Either we 'work' at the booth, or sit/hack somewhere else.


We must make sure we know what we're selling. We should have a list of selling points. The promo team is on this, and we'll distribute it to booth attendants once it's done!


Reciprocity: giving something makes ppl want to give something back. If we want to get them to sign up for our supporting membership, having some give-aways is important. This is related to the booth ...read more...


Обновился замечательный пакетный менеджер не менее замечательного дистрибутива Arch Linux. Его список изменений содержит множество интересных нововведений, которые обязательно заинтересуют любого заядлого арчевода.
Из наиболее интересного:
Зеркала и кэш:

Новая опция "Architecture", ограничивающая действия pacman только выбранной архитектурой. По-дефолту выставлено в auto (определение на основе вывода 'uname -m').
Переменная $arch в URL зеркал.
При синхронизации извлекаются только обновившиеся элементы.
Очистка кэша работает со всеми каталогами, а не только с первым.
rankmirrors переписан на bash.
cleanupdelta — новая утилита для удаления неиспользуемых дельт из БД.

Установка и удаление:

Можно одновременно обновлять пакеты и ставить новые (например, 'pacman -Syu rekonq').
Установка через -U наконец-то научилась обрабатывать зависимости, конфликты и замещение пакетов.
Установка через -U и удаление пакетов всегда запрашивают подтверждение пользователя.
Поле "требуется пакетами" в выводе -Sii (показывает не только установленные!).

Другое:

Новое действие -D/--database, изменяющее данные пакета в БД. Пока можно менять только причину установки (установлен явно/как зависимость).
-Qo может сам раскрывать пути (как which).
Новые ключи --print и --print-format. Первый напечатает цели вместо выполнения указанного действия, второй позволит формат этого самого вывода настроить.
bash-completion переписан для оптимизации и уменьшения размера.

makepkg:

Автоматическая остановка при ошибках (больше не нужно писать "|| return 1").
Для нескольких пакетов, заданных в одном ...read more...


Hunh, so I fired up Konversation on FreeBSD this weekend (after deciding that hanging around via irssi in screen was no longer something I wanted to do) and after three minutes had a list of usage questions a mile long. Jos Poortvliet wrote a little about the last mile and polish last week. That kind of polish applies to Konvi as well. Keep in mind that comments coming from a new user (like me) may not be applicable to old-time users. This applies in particular with regard to moving UI elements around: for new users it might make them easier to find, for old users it means horrifying surprise when something isn't in the old, learned, location. Anyway, here's a list:
Why is server list under File, while identities is under Settings? Why are neither of these configurable through the "Configure Konversation" menu item under Settings?
Why are channel settings under the Window menu?
In the server list dialog, double-clicking a network or server connects to it; in the identities dialog it edits the identity. My ...read more...


For those who like to geek out on technical specs:
I've summarized all the technology use in our, almost complete, solar passive house on a dedicated blog .

The obligatory pretty picture:



And there is more on the linked to post.

Bart
Чуть более месяца назад открылся новый проект Art for Code (арт в обмен на код), призванный исправить не слишком хорошую ситуацию с наличием доступных 3D моделей в распоряжении инди-разработчиков и open source сообщества в целом. Как и следует из названия, главная цель - дать возможность художникам и программистам (в первую очередь, разработчикам игр) взаимно помочь друг другу.
Буквально, идея заключается в следующем: художники составляют список улучшений, которые бы они хотели видеть в известном пакете 3D моделирования Blender (например, поддержка импорта/экспорта в указанный формат файла, улучшения пользовательского интерфейса, итп.). Любой желающий, которому под силу справиться с указанной задачей, может получить в качестве вознаграждения за её решение 3D модель, анимацию или текстуры (каким именно будет вознаграждение следует оговорить заранее с художником). На данный момент имеется 10 задач разной степени сложности.
The IFOSSLR — the International Free and Open Source Software Law Review — has published issue #3. The IFOSSLR is the only journal dedicated exclusively to Free Software legal issues. While I was the FTF-Coordinator at the FSFE it was great to see the careful legal thought put into all kinds of issues (from trademarks to license assignment to risk assessment). It's important to have an understanding of the legal issues around Free Software (both development and deployment) that is business compatible. That's not to say that the interpretation is adapted to suit the desires of business — no, it means that the understanding is formulated in a way that businesses understand. It's quite important to state cause and effect or obligations and rights carefully so that businesses understand what to do and how to do it right. After all, most Free Software developers want everyone to play by the rules set out in the license.
Sometimes what's necessary from a business standpoint isn't what we'd like from a Free Software perspective, but there's ...read more...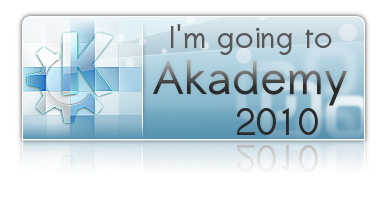 With the big show now only just over two weeks away I wanted to take the time to pimp the programme by talking about the tracks and the talks I am planning to see.
Community

Community is at the heart of KDE. This year it was particularly popular with many talks being submitted. As a result we managed to almost get a day-long track out of it. The track covers community management theory, technologies and legal issues. I'm looking forward to Thomas and Celeste's talks.

Mobile

You might have noticed… Mobile phones are becoming an important platform for KDE. Recently we have seen both KOffice and KDEPIM as well as other parts of KDE SC. I am looking forward to talks from Till Adam, Artur Duque de Souza and Alexis Menard

Development

Want you mind blown by the technical prowess of one of our gurus? This ...read more...



Cold migrating a virtual machine fails with the error: Failed to connect to host (1005892)
· Unable to cold migrate a virtual machine · Cold migrating a virtual machine fails · You see the error: Failed to connect to host · In the vpxa.log file
Download VMware Products | Privacy | Update Feed Preferences
Copyright © 2010 VMware, Inc. All rights reserved.

Enhanced VMotion Compatibility (EVC) processor support (1003212)
Enhanced VMotion Compatibility (EVC) simplifies VMotion compatibility issues across CPU generations. EVC automatically configures server CPUs with Intel FlexMigration or AMD-V Extended
Download VMware Products | Privacy | Update Feed Preferences
Copyright © 2010 VMware, Inc. All rights reserved.

I started coordinating the plasma project's activity at this year's Akademy. In support of this, I started a page on our wiki and a thread on our mailing list. For Plasma contributors, there's a topics area on the wiki page where we are building a list of the topics the various people attending want to address while we are there.

More interesting to the rest of the KDE world (or so I hope :) is the Plasma Frenzy we're planning. Just as we did in 2008 (I missed the 2009 Akademy, sadly), it will be a series of quick presentations, each 3-10 minutes long and about a different aspect of Plasma that we are working on. Anyone doing something interesting with Plasma who will be at Akademy is welcome to present what they are doing, and everyone who is interested in Plasma and wants to keep up with our latest twists, turns, blunders and/or brilliance is welcome to join us in the (hopefully participative) audience. It looks likely to be scheduled right ...read more...
Вышла новая версия одного из популярнейших мультимедиа-плееров под Linux — VLC 1.1.0
В новой версии:
GPU и DSP–декодирование (на некоторых платформах);
Новые кодеки;
Расширения на Lua;
Переработанный внешний вид;
Переработанный вывод видео;
Некоторые модули удалены, некоторые переписаны;
Новая libVLC.
Last week, Krita development really picked up, and if today's commit rate is anything to go buy, this week will be just as good! We had fifty commits in week 24. Our bug count is now 58, but that's after Sven Langkamp closed half a dozen bugs today. People seem to like Krita 2.2 and do very nice work with it. If you give 2.2 a try and you experience a problem, please inform us about it. There's a very cool and handy Report Bug menu option in the Help menu!
Lukas worked on better support for Photoshop brushes and some refactoring of the spray brush. Read his blog!. Our Google of Code students have been busy as well. Adam has been working on the layout for the new color selectors. Dmitry Kazakov has moved mountains with some big refactorings to make Krita thread-safe and much faster: he will blog tomorrow, he promised! Marc Pegon has started fixing bugs in the transform tool. And finally, Pentalis has been ...read more...
"So as you might have heard KDE is going to host its own git infrastructure. This means that the projects currently on gitorious will have to be moved one by one.
I've spent the last few weeks in London with Keith Whitwell and Jos
Ссылки