Ссылки
The Grantlee community is pleased to announce the release of Grantlee version 0.1.3.
The most interesting part of this release is the support for generating ruby code in the code generator example.
The patch adding ruby support did not touch any C++ code. It did touch some ui files and Qt Resource files. It would be possible to add extra language support without even recompiling the application if not for the Qt Resource usage. Part of the intent of that example application though is to show how to use Qt Resources with Grantlee though, so that is not going to happen for that app
.
I just released Version 0.3.2. Update as usual with sudo gem update
There are two important bugfixes.
Fetching qt failed because it tried to fetch from a pure server url. You need to update your recipe too.
SQLite3 obviously starts to enforce foreign key constraints. After updating to OpenSuSE 11.3 build-tool failed for me because the constrained i declared had a typo. Was never a problem before (for me). Remove all ~/.build-tool/*.db files to get going again if you encounter the problem.
Вышла версия 1.9.18 открытого сервера потокового видео erlyvideo. Сервер написан на erlang, представляет из себя замену Wowza, Adobe FMS и Red5, причём несравненно более функционален и быстр чем последний: http://erlyvideo.org/comparision
Сервером реализуется поддержка протоколов RTMP(E), MPEG-TS, RTSP/RTP, HTTP Live Streaming; также существует набор дополнительных плагинов, например позволяющих заменить дорогостоящий видеорегистратор камер наблюдения этим сервером, или плагин позволяющий микшировать звук на сервере.
Опубликован новый выпуск электронного приложения к журналу «Системный администратор», полностью посвященного программному обеспечению с открытым кодом, — «Open Source» 064.В этом выпуске «Open Source»: «Новости мира Open Source» (Дмитрий Шурупов). «Субъективно о менеджерах закачки: практический обзор» (Петр Семилетов). «Обзор семейства Ubuntu Linux. Часть 1: Настольные версии» (Виталий Сороко). «Программирование для Haiku OS шаг за шагом. Часть 2: создание игрового поля в Paladin IDE» (Андрей Кузнецов). «Открытая символьная математика. Часть 5: менее известные свободные CAS» (Семен Есилевский). Выпуск «Open Source» 064 доступен для свободного скачивания на сайте «Open Source».
Hi all,

I was wondering - the dot editors have clearly been in a frenzy lately, publishing articles like it's nothing. We've restricted ourselves to 1 article a day at most - but they're often quite a read. I wonder what people think... Since we've turned of anonymous comments I don't see a lot of input from the community, and I'm wondering - do you guys and girls like the articles? Are there things we can improve? Is the frequency to high? Too low? And as usual - wanna help out?

Cheers,
Jos
Российская компания «АМИКОН», являющаяся автором продуктов «ФПСУ-IP», объявила о выпуске пробной версии программно-аппаратного комплекса «ФПСУ-IP» на базе Linux.«ФПСУ-IP» — это «межсетевой экран и VPN-построитель». Клиентская версия называется «ФПСУ-IP/Клиент» и имеет сертификат ФСТЭК по 5 классу защищенности (при осуществлении сеанса связи с «ФПСУ-IP» — по 3 классу защищенности). Эти комплексы эксплуатируются в защищенных информационных системах Банка России, Сбербанка РФ, ОАО ЛУКОЙЛ, АКБ «Альфа Банк» и других российских организаций.В конце прошлого года на форуме компании проводился опрос среди Linux-пользователей о предпочтительных дистрибутивах, на основании которого АМИКОН приняла решение «ориентировать» новую версию ПАК «ФПСУ-IP» на Ubuntu Linux. 30 июня было объявлено о завершени...
T2 SDE - метадистрибутив, предназначенный для сборки собственных дистрибутивов. Был создан как ответвление от проекта ROCK Linux. В нём поддерживается целевая сборка для множества архитектур: Alpha, ARM, HPPA (включая HPPA64), IA64, MIPS, PowerPC (включая PowerPC-64), SPARC (включая SPARC64), SuperH, x86 (включая x86-64).
В версии 8.0 пользователей ждут следующие изменения:

GCC 4.5(.0)
GlibC 2.11(.2)
X.Org 7.5
Предварительная поддержка LLVM/clang и MinGW/Win32
Более двухсот новых пакетов (на данный момент общее их количество составляет 3221), большинство ранее включённых пакетов были обновлены
Более десяти тысяч изменений в svn с момента выхода ветки 7.0
Классический установщик теперь полностью поддерживает кросс-компиляцию
Улучшено наложение пакетов по архитектуре и назначению
Скачать можно здесь.
For the uninitiated, EyeOS is a free, open-source desktop implementation right in the browser. I was recently playing around with my EyeOS installation that I forgot I had installed a while back (v1.x) and like what most people do when they try out a new system, I decided to see what other themes they have.
Turns out they have an Oxygen theme! It's a little dated but I must say I'm impressed. Very impressed.
Now all I have to do is find a practical personal use of EyeOS! Perhaps it might replace a few of my cobbled series of other cloudish hacks.
Related posts:
Interviews
I did some 30 second video interviews at Akademy in Helsinki. You can download them to get a feel for the people and place of Akademy. Unfortunately I've been unable, in the limited time I've devoted to it, to convert them to Oggs, ffmpeg doesn't want to do it. I've also been unable to find a simple HTML5 video gallery script that would make a simple HTML page with the videos embedded. Do let me know if you have the answers to those. I recommend Frank's interview for an insight into what our board spends its week doing.
Eben Moglen Talk
Before Akademy I went to see Eben Moglen give a talk at the Scottish Society for Computers and Law. Eben is a much overlooked rock star of free software, having written the GPL licences and made many other significant contributions.
His talk was about the dangers of embedded software, taking the example of the software in cars because it is a topical issue but also in other life critical areas such as aeroplanes and ...read more...
Jos has been getting very philosophical lately. One post that got me thinking about how odd KDE is (in a good way) was his one about working together.
KDE is quite unlike anywhere else I have worked, for fun or profit. Probably the closest analog is my involvement at university with the student newspaper, the Warwick Boar where I started off writing general features and ended up as Science Editor.
The Boar had a few similarities to KDE. It was staffed by volunteers, was successful (we won awards and stuff), diverse and quite large (I don't know exactly, but well over a hundred contributors). However, unlike KDE, it was hierarchical. At the top was the Editor, who had ultimate power and responsibility. He or she made the call when someone threatened to sue for libel, or when one of the big national newspapers wanted access to one of our sources (it happened). Below the editor, each section had its own head, responsible for organising their team and making sure that their pages got done.
...read more...
Мигель де Иказа (Miguel de Icaza) сообщил в своем блоге о том, что продукты IronRuby, IronPython и Dynamic Language Runtime (DLR) отныне распространяются под Open Source-лицензией Apache License v2.До сих пор код DLR и основанных на нем проектов IronRuby и IronPython распространялся под лицензией Microsoft Permissive License, хоть и одобренной организацией Open Source Initiative (OSI), но вызывающей скепсис у сторонников программного обеспечения с открытым кодом.Однако теперь Microsoft сменила лицензию для DLR на популярную либеральную Apache License второй версии, что привело к аналогичным изменениям в лицензировании IronPython (реализация Python для платформы .NET) и IronRuby (Ruby для .NET). IronPython распространяется под новой лицензией начиная с релиза 2.7 Alpha, а IronRuby — начи...
LuxRender — это бесплатная кроссплатформенная система рендеринга трёхмерных сцен с открытым исходным кодом.

Особенности:
Использует математические модели освещения, основанные на физических явлениях,
благодаря чему изображения получаются реалистичными, но их рассчёт занимает много времени.
Идеально подходит для архитектурной и интерьерной визуализации.
Имеет интерфейс с интерактивным управлением, командную строку.
Гибкий и полный C/C++ API.
Плагины экспорта доступны для Blender, XSI, Cinema 4D и Maya.
В данное время разработчиками ведётся активная работа по внедрению поддержки OpenCL.
Поддерживаются OC GNU/Linux, MS Windows и MacOS X.

Скриншоты.
Изменения в этой версии.
For KDE developers, web-based forums are often uncommon workflows. Indeed, for communication among developers mailing lists are much better tools, especially since you can handle everything inside a client (most of the time), compared to forums where you have to use a web browser. The ways of reading, replying and interacting with posters are dramatically different. And that is why some developers find themselves uncomfortable with the KDE Community Forums.
A dedicated application would be usually much better than a browser, because you can work around the intrinsic limitations of the browser itself. The problem is that you can't really access a forum with anything else than a browser. That is, it used to be like this, but now things are changing.
In the past months fellow administrator bcooksley has been working quite hard implementing the Open Collaboration Services (OCS) specification in the KDE Community Forums. For the uninformed, it's the same API that powers OpenDesktop.org and related web pages. This means that you could ...read more...
Дорогие коллеги! Мы приглашаем вас принять участие в пятом ежегодном слёте российских пользователей Gentoo Linux - Gentoo Summer Camp Russia! В этом году Gentoo Summer Camp будет проходить 7-8 августа близ города Бологое (широта: 57°57'22.20", долгота: 34°02'45.31").
Где это? В 10 километрах от г. Бологое. Карта прилагается (см. ниже)
Зачем? Встретиться, пообщаться на природе, отдохнуть, пожарить шашлыков :)
Кто участвует? Пользователи Gentoo Linux, сочувствующие и члены их семей.
Программа? Общение, купание, рыбная ловля, сбор грибов, компиляция футболок, ваши варианты :). Программа будет расширяться и дорабатываться в соответствии с вашими пожеланиями. Идеи принимаются к сведению. Инициативы приветствуются и всячески поддерживаются :)
Что брать с собой? Палатку, спальник, туристский коврик (в народе "пенка"), продукты на себя, одежду - по погоде, аптечку, запас оптимизма и хорошего настроения. Алкоголь по-минимуму, без экстримизма :) Ноутбуки. Посуда: кружка-ложка-миска-нож, кто потащит котелки для корма - обсудим в форуме :)
My summer of code had hit a bit of a dead end between some Nepomuk woes (your week is up Vishesh
) and some general issues with plasma integration in all of the plasma-related SoC projects… Half of that is hopefully solved with a bit of a nice solution, imo, which Aaron came up with at Akademy
At Akademy, Aaron talked a lot about Elegance; in our interface, our applications, our API. Make things fun to work with, easy, organic. It's something we should strive for, and something that I have strove for in my code; sexy code is a hell of a lot more fullfilling than ugly hacks.
Since the beginning of SoC I have had the interesting task of making sure that applications have some sort of way to talk to the KPart I have been working on (which is now feature complete enough for me to start cleaning up the code for kdereview and eventually kdebase-runtime, w00t), which is incredibly difficult because KParts simply aren't designed ...read more...
I've been pretty quite about GSoC progress. But I had a great time at aKademy and forgot all about blog posts. So the current status is thus. If programming was just about getting things done, I am done! But its not, which means although everything I was supposed to do is done in a big picture way, the next few weeks will see bug fixes, optimization and ensuring that certain things can be done faster, more accurately or in a more user-friendly manner. I also have to port the code over to use Solid, now that fellow GSoCer Paulo Romulo has improved UPnP support in it.
Last time I gave a glimpse of the Browse based collection. UPnP MediaServers have two methods of accessing their content. Browse() is similar to going through your hard-disk directory by directory. As you can see, this can be quite inefficient for a Collection since it has to keep track of a large number of tracks. The other method is Search(), wherein users can query the MediaServer to give tracks/media matching certain criteria, such ...read more...
Yakuake is a drop-down terminal emulator based on KDE Konsole. It features smoothly rolling down from the top of your screen, a tabbed interface, configurable dimensions and animation speed, a skinnable GUI, and a sophisticated D-Bus interface.
Преподаватель с факультета технологий Университета Билефельда (Германия) Торстен Шнайдер (Thorsten Schneider) представил общественности «самую уязвимую операционную систему в мире» на базе GNU/Linux. Дистрибутив получил название Damn Vulnerable Linux (DVL).Сам автор заявляет, что разработчики DVL приложили максимум усилий для того, чтобы внести в дистрибутив все, чего не должно быть в хорошей Linux-системе. В ней содержится уязвимое и плохо настроенное программное обеспечение, благодаря чему вся система обладает невероятно низкой защищенностью.Цель проекта DVL — использовать эту систему в образовательных целях, обучая студентов безопасности в области информационных технологий. Шнайдер пытался создать систему, на примере которой ему было бы удобно учить студентов различным проблемам в бе...
Компания Adobe стала первой, кто воспользовался бета-версией SourceForge 2.0 — новой версией популярной платформы для хостинга Open Source-приложений.На сайте Open @ Adobe размещена информация об открытых проектах, стандартах и спецификациях Adobe. Там же можно найти ряд полезных ссылок для сообщества. На SourceForge сейчас представлено семь Open Source-проектов Adobe. На остальные открытые разработки пока ведут внешние ссылки на opensource.adobe.com.Бета-версия SourceForge 2.0 была представлена 14 июля. Сообщается, что в ней появились новые и улучшенные инструменты для участников проекта, использующих трекер, wiki и систему управления исходным кодом. Текущая версия SourceForge будет заменена на новую (2.0), как только последняя достигнет достаточного уровня стабильности.
It's been about a month since my last blog entry, so let me remind you what I'm doing as part of my Google's Summer of Code (which down here is Autumn/Winter!):
A hatching and halftones brush for Krita.
Implementing impasto in Krita.
Part 1 is virtually complete, there's no halftones brush yet, but it's trivial to create one from the hatching brush which is now beta!. That's right!, all GUI is linked and you can start toying with it and have fun, change the settings to anything you like without touching the source code! =D here's a little picture reminding you of what it looked like:
Halftone Brush Beta!
How to install Krita trunk and start playing!
Remember there is no way to download only Krita, you have to download all of KOffice's source code and then you can specify the applications you want to build. If you wonder why this is so, ...read more...
Компания Motorola начала использовать защиту eFUSE-чипов. Эта аппаратная технология запрещает загрузку модифицированных прошивок. Данный способ тивоизации планируется использовать на платформе DroidX и Droid2. Motorola и раньше использовала тивоизацию. Например на Motorola Z6 использовалась подпись RSA, которую хакеры смогли обойти. Также использовалась технология на основе SELinux. Но в отличии от десктопа/сервера, где данная технология используется для защиты пользователя, в данном случае идёт речь о защите телефона от пользователя.
Новость взята с opennet.ru
Had been holding off posting on this until I have something reasonably pretty to show for it, but damn, said pretty thing sure took its time. Anyway, GSoC mid-term evaluations just ended, and I finally managed to hack up something that looks somewhat presentable. Here's a short screencast of it.
Some key ideas of the current implementation:
The tray lives in it's own containment separate from the main activities/launchers.
There is a passive "shrunken" form and an active "enlarged" form.
The passive form is not interactive and click/tapping it simply switches it to the active form (with a simple QML animation thrown in). It shows a number of defined "always-show" applets and a limited number of the other applets, prioritized by recent activity.
The active form shows all available applets in large, finger-friendly sizes, and is scrollable in case it doesn't fit the screen (hello Plasma::ScrollWidget!). It behaves more or less like one would expect a systray to behave.
Not a lot to show for one month plus worth of development I admit
...read more...
I ended up taking two "breaks" during the day today to do "30 minute hacks". This is where I do something in the codebase that may or may not end up being useful but which I find interesting to try out, keeping the exercise to a length of 30 minutes or less.

The first one was moving around some of the UI in ksnapshot (after chasing down an annoyance in kdelibs that would pop up a notification every time ksnapshot started if you had last saved a snapshot to a remote location). Here's the result of that "30 minute hack":




The default size is bigger (and it remembers the window size between restarts), the snapshot thumbnail has a bit of a shadow around it and the buttons have been re-arranged. Other than the window size saving, which I consider a bug fix, I'm not sure if the rest will make it into the next release or not. We'll see. I'm currently waiting for feedback from Rich Moore, my KSnapshot partner in crime. ...read more...
This article shows you how to create the GUI of a tiny text editor without being a C++ guru.
Last year we already discovered that Kate is truly the only holy text editor* (again thanks to rms for making us aware of it)! (and btw, xkcd is totally wrong). And now we even have yet another proof: The holy Kate maintainer and the naked woman! Enjoy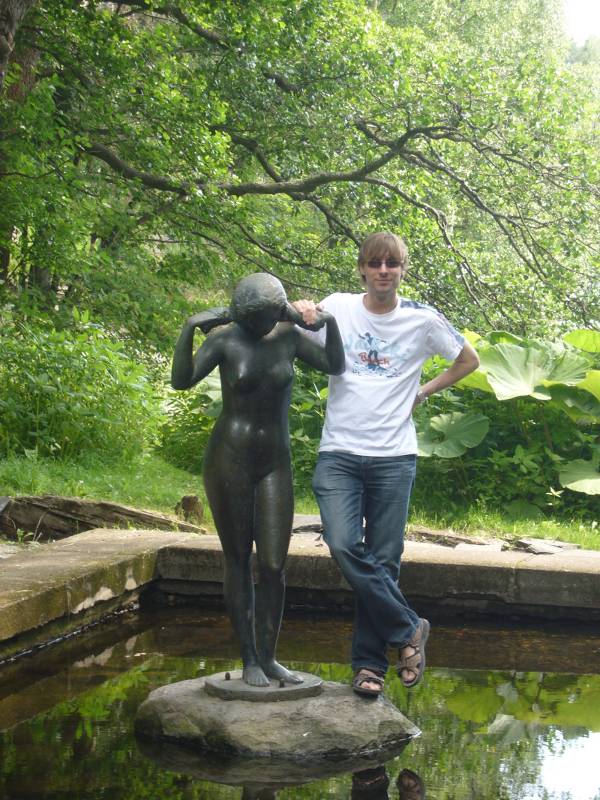 (*) this is an insider from the joint KDE and Gnome conference (gcds) in Las Palmas, Gran Canaria, 2009.
Understanding Memory Resource Management in VMware ESX Server 4.1

We have published a whitepaper about how ESX server 4.1 manages the host memory resource. This paper not only presents the basic memory resource management concepts but also shows experiment results explaining the performance impact for four different memory reclamation techniques: Page sharing, ballooning, memory compression and host swapping used in ESX server 4.1. The experiment results show that:

1) Page sharing introduces negligible performance overhead;

2) Compared to host swapping, ballooning will cause much smaller performance degradation when reclaiming memory. In some cases, ballooning even brings zero performance overhead.

3) Memory compression can significantly reduce the amount of the swapped out pages and hence greatly improve the overall performance in high memory overcommitment scenario.

The following is the brief summary of the paper.

In this paper, we start from introducing the basic memory virtualization concepts. Then, we discuss the reason why supporting memory overcommitment is necessary in ESX server. Four memory reclamation techniques are currently used ...read more...




Ссылки


Генерация: 0.243 сек. и 40 запросов к базе данных за 0.138 сек.
Powered by SLAED CMS © 2005-2007 SLAED. All rights reserved.