Ссылки
It's been a very long time since I made a post, mostly because my college started this week which meant I lost around a week in traveling, registration and the whole process of 'setting in'. Either ways, since my last post, a lot of changes in KWin. Actually, a very important change has been made in the entire structure of how clients are generated and currently things are looking very neat and much more systematic.
Clients and toplevels
In KWin, the Client object inherits from Toplevel. Toplevel is the class for all clients, whereas Client handles managed clients. Now, I could just directly wrap Client and not really care about Toplevel, but doing these things separately enables me to reuse the code for Toplevel for unmanaged clients as well if I plan to. I have always been doing these two things separately, but my previous method was pretty tacky.
Previously: Earlier, the SWrapper::Client object and SWrapper::Toplevel classes were just standalone classes that both used to generate QScriptValues. So, inside the SWrapper::Client::generate function:
Just a quick note, I released a new version of the fastuserswitch plasmoid. This new release implements all the improvements suggested by the users plus some minor fixes.
Code can be downloaded from here. openSUSE packages are already available on the build service.
These are some screenshots illustrating fastuserswitch's new features.
KDE SC 4.5 is about to be released soon -- just two weeks to go. We will have some great new features in Marble, your favorite virtual desktop globe. Hopefully we'll have a visual changelog ready for the release summarizing the new and noteworthy.
While releases need their time to stabilize, development continues distributed in git repositories and in subversion trunk. Siddharth Srivastava is making great progress on his GSOC project Marble to Go with a major part of his work already in reviewboard. I'm sure he'll give an overview in his blog when it hits trunk. I'll focus on a different topic today. Marble's routing capabilities rely on OpenRouteService in KDE SC 4.5. Although it works great in most situations relevant to me, there are two major disadvantages: The OpenRouteService integration in Marble requires Internet access to retrieve routes and OpenRouteService itself is limited to Europe.
Recently Nic Roets announced a new routing webservice demo which can be accessed via a HTTP API as well. It is similar to yournavigation.org ...read more...
Linux Foundation, некоммерческий консорциум развития Linux, объявил, что GENIVI Alliance, альянс автомобилестроителей и поставщиков технологий, выбрал платформу MeeGo в качестве основы следующего релиза для In-Vehicle Infotainment (IVI) — GENIVI Apollo.
Это означает, что основанная на Linux программная платформа будет обеспечивать предоставление информационно-развлекательных сервисов в автомобилях, в том числе таких производителей, как BMW и General Motors (GM).
Выражая удовлетворение выбором GENIVI в качестве программной платформы MeeGo, исполнительный директор Linux Foundation Джим Землин [Jim Zemlin] отметил, что «MeeGo – действительно открытая платформа, и работа GENIVI принесет пользу и проекту, и всем, кто использует его». Президент GENIVI Грэм Сметерст [Graham Smethurst] подчеркнул: «Мы остановили свой выбор на MeeGo, потому что эта технически инновационная платформа сможет обеспечить поддержку создания требующейся кросс-платформенной архитектуры».
via linuxcenter
The Wheel of Time turns… meaning that the Kate Project has quite along history by now. The Kate Project was started back in December 2000, so it's almost 10 years old. Development sometimes continues with a fast pace; and at other times there is almost no progress for weeks. But all in all, looking back at those 10 years, we can proudly tell you that the project is very much alive. Let's take a look at the traffic of our mailing list: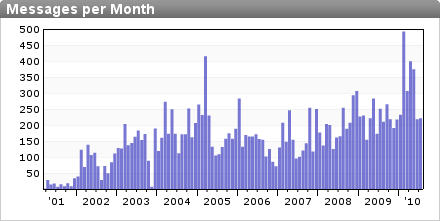 The traffic itself does not say much about the development. It probably tells us that there are quite a lot of people using Kate and reporting wishes and bugs. This is a good thing
The commit statistics for Kate, KWrite and the KTextEditor interfaces look like this: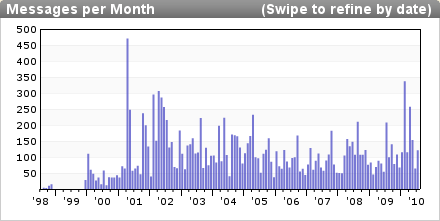 Before 2000, Kate did not exist yet. Instead, so these commits come from ...read more...
During the Akademy kde-on-mobile discussion, K
Сервис доступен бесплатно.
Виртуальное облачное решение с использованием Ubuntu Enterprise Cloud и DB2 Express-C позволит пользователям быстро и легко включать DB2 как в публичные, так и в частные облака.
IBM DB2 Express-C — это бесплатная общественная версия DB2. По заявлению Canonical, она идеально подходит для малого бизнеса и компаний с множеством филиалов, а также для обслуживающих их разработчиков и бизнес-партнёров.
Уважаемые пользователи всего и вся, что втыкается в розетку и зовётся большим и ёмким словом IT. Те, кто живёт далеко от Калуги: приглашаем вас на Поволжский слёт системных администраторов и IT молодёжи.

Телефон для связи: 8 (902) 287-12-31

Неизвестный читатель Slashdot представил общественности обнаруженный им проект LiveCD Linux-дистрибутива WatchOCR, предназначенного для быстрого и простого распознавания текста в PDF-файлах.WatchOCR позиционируется как «свободный OCR-сервер для PDF». Он основан на LiveCD-дистрибутиве Knoppix и использует Open Source-средства CuneiForm и ExactImage для выполнения работы по распознаванию текста. В WatchOCR доступен простой веб-интерфейс, позволяющий удаленно настроить слежение за каталогом на факт поступления новых отсканированных PDF-файлов. При появлении таких файлов (PDF с изображениями) WatchOCR преобразует их в PDF с распознанным текстом.Подробности о WatchOCR, статьи по его установке и настройке, а также форум доступны на сайте проекта.
Вчера вышло очередное обновление к интерпретатору популярного языка скриптового программирования PHP — 5.3.3.Среди ключевых изменений в релизе PHP 5.3.3 отмечается включение ряда исправлений в безопасности, подготовленных в рамках последнего «Месяца безопасности в PHP», а также добавление поддержки FPM (FastCGI Process Manager) SAPI.FPM появился в PHP благодаря проекту PHP-FPM, в рамках которого уже долгое время создавалась реализация поддержки FastCGI, обеспечивающая ряд преимуществ по сравнению с spawn-fcgi: динамическое количество процессов в зависимости от нагрузки, логирование STDOUT и STDERR, запуск рабочих процессов (workers) с разными опциями php.ini и в разном окружении (UID/GID, chroot), поддержка «ускоренной загрузки файлов» (Accelerated upload support) и другое.Кроме того, в...
As with any new code, during adoption bottlenecks show up.
For example the rendering of text lines with many ranges inside was quiet slow. This is now partly addressed by Milian Wolff, thanks a lot.
An other bottleneck was the assumption, that it is fast enough to hash the ranges just by their block and iterate over all of them to search the ranges matching a specific line. This does scale well enough for KatePart itself, but KDevelop creates multi-thousand ranges for small documents. To improve this, an internal special mapping was implemented by David Nolden for ranges which don't span more than one line. For them an efficient line => range mapping is easy and not to costly.
If both changes are tested a bit more, they can be backported in time for KDE 4.5, which will allow a good usability of KatePart for KDevelop once again after the rewrite, given other bugs are fixed.
VMworld 2010 (San Francisco) - Who's the band?
So, you're heading to VMworld 2010 (Sand Francisco)...or still waiting to register.
You might be wondering -- who's the band at the party this year?
This is your chance to guess, with an incentive.  The first 2 correct band name guesses will each be rewarded with a backstage pass to meet and greet the band during the VMworld party.

How do you submit your guess?  By any of these options:

- Twitter: Tweet your guess and be sure to add the #vmworld hashtag
- Facebook: Add your guess as a VMworld Facebook comment
- VMworld.com thread: Reply to this thread with your guess
- Blog comment: Add your guess as a comment on this blog

However, there is a catch...

Each person is only allowed 1 guess (via only 1 ...read more...



Уже в будущем году в России должна появиться национальная операционная система, которая будет рекомендована для использования в государственных органах. Она будет создана на базе Linux одним из российских разработчиков, при этом репозиторий системы станет собственностью государства.
Минкомсвязи считает необходимым, чтобы национальная ОС собиралась именно российским разработчиком. Под таковыми министерство понимает компании, в лицензионных соглашениях указывающие своей страной Россию, например AltLinux, ASPLinux, Fedora.ru и др. Это позволит передать деньги за обслуживание системы российским инженерам, считают в Минкомсвязи.
Following hot on the heels of a week of intensive KOffice performance analysis in Helsinki and a great Akademy, I'm in Bangalore again for two weeks. Not specifically to meet again with the Bangalore interns working on FreOffice, but rather to work with Nokia on mobile KOffice. Marijn Kruisselbrink is here together with me, and when we leave, Jos van den Oever will relieve us.

I'm happily hacking away on a project that was started at the last KOffice sprint in Essen: making KOffice more flexible by allowing other canvas types than QWidget-based ones, for instance, based on QGraphicsView. Lots of interesting challenges, and also some quite nice progress already.

It's the rainy season, as you can see from this picture taken from the rooftop of the Nokia building:

Instead of a boring hotel room with four attendants to serve me with a beer, we've hired an apartment in the Orchard Suites, about ten minutes by car from the Office.
Day by day KPresenter becomes more and more an end-user presentation application.
However, to be a real end-user application, KPresenter needs some new options and some new cool stuff. That's why, I think it's a good idea to ask for KDE community to know the essential need for them.
So if you think KPresenter needs something, please send a comment
.
There is already a brief idea list from zagge, morice-net, me and some discussion with KDE community members during Akademy.
Presentation tools :
Blur effect on highlight mode (presentation tools) and add anti-alisasing (in order to have a smoothy circle)
When an animation tool like highlight or black screen was selected play animation like fade effect
New tool to navigate easely between slide (For example if presenter view mode is disabled)
Allow user to navigate with keyboard when a presentation tool is activated
Allow user to resize light (highlight tool)
Page effect :
Allow user to set a default page effect for the slideshow (for a 30 slides presentation ...read more...


Крупнейший поисковый конкурент Google в Китае, компания Baidu, собирается выпустить свою операционную систему для мобильных устройств на базе Linux.

Для этого Baidu заключила сделку с разработчиками ПО Tencent и TekMobile, сообщает новостное агентство Xinhua. Компания Tencent известна разработкой самой популярной в Азии системы обмена мгновенными сообщениями QQ.
Команда разработчиков офисного пакета KOffice объявила о конкурсе на создание лучших шаблонов для программы работы с презентациями KPresenter.В грядущем релизе KOffice 2.3 у KPresenter ожидается ряд интересных новшеств, среди которых, например, поддержка аппаратного ускорения для отображения эффектов в слайдах, сортировщик слайдов, импортирование множества картинок в слайды. Но авторов беспокоит отсутствие хороших шаблонов для создания новых презентаций.В связи с этим и был учрежден конкурс «KPresenter template contest». Его правила довольно просты: шаблон должен быть в формате ODP или OTP; шаблон должен иметь наглядное название; шаблон будет лицензирован под BSD; отправлять свои работы нужно на email kpresenter-contest@kde.org до полуночи (по UTC) 15 сентября 2010 года. Тематика ш...
Разработчики из компании iXsystems объявили о выходе релиза операционной системы PC-BSD 8.1, которая ориентирована, прежде всего, для установки на рабочие станции пользователей. Любопытно, что в этот раз разработчики успели выпустить релиз раньше, чем вышел официальный FreeBSD 8.1, на коде которого и основывается PC-BSD.
Рабочим окружением в версии 8.1 служит KDE 4.4.5. Также были внесены многочисленные исправления и изменения в инсталлятор ОС. Теперь он научился создавать разделы GPT, fdisk заменили на gpart, в ZFS добавлена возможность конфигурирования ZFS mirror и raidz через графический интерфейс.
Не остались без внимания и предыдущие ошибки в рабочих утилитах, входящих в эту ОС. Например, исправлениям подверглись life-preserver, KDE-плазмоиды, Nepomuk и т.д.
Для корректной установки на ПК в графический инсталлятор была добавлена система автоопределения оборудования.
Традиционно программы упакованы в PBI, который позволяет отказаться от зависимостей. Также поддерживается установка пакетов через один клик на сайте pbidir.com.
Минимальные системные требования: процессор уровня Pentium II, 256 мегабайт ОЗУ и 12 гигабайт на жестком диске
OpenChange is an important project, but it does require quite a lot of work to get it all to build. We're working on the process, but in the mean time, we've (ok, Julien Kerihuel with nothing from me except encouragement) has built a Virtual Box image that provides OpenChange all built, configured, set up and ready to try.
See http://tracker.openchange.org/projects/openchange/wiki/OpenChange_Appliance for the download (ftp or rsync) location and setup procedures.
Have fun, and let us know how it goes!
Основные изменения:
Теперь mono включает в себя MVC2
Добавлен WCF — как клиент, так и сервер
Добавлена поддержка LLVM для улучшения производительности
Новый отладчик, который интегрирован в MonoDevelop 2.2
Добавлена поддержка модели безопасности CoreCLR
Множество мелких исправлений
I witnessed (and was pleased to take part in) some interesting discussions on #qt-labs this afternoon, all stemming from a contribution to Qt3Support being rejected.

A long story short, the contribution - despite looking reasonably valid - was rejected because Qt3Support is effectively unmaintained, and as a result, any changes to it could have negative impacts on users of the support API.

I understand that argument, yet at the same time - I can't help but think it's a bit of a backwards approach to be taking. Typically, a contributor will wander along, find a bitrotting module/project that interests them, throw patches at the previous maintainer - and shortly after doing so, find themselves a de-facto (or indeed official) maintainer through their efforts.

This is a natural progression of things and should really be encouraged, it allows what would otherwise be dead code to live on. However, in Qt3Support's case, the central point was that they'd love someone else to take responsibility for it, but don't want to expend the effort themselves to triage, maintain, and otherwise support it ...read more...
Some updates about the new openSUSE wiki issues:
The User:* pages are now finally protected (see bnc#409520 for history).
Looks as if the Special:Import is now finally working also for normal users.
That are good news, but there are some other issues with the wikki:
As already pointed out by some other (e.g. in the 5th comment on this post): older external links to wikipages don't work anymore and there is no hint on the 'empty' page that there is a new wiki with a new structure and where you can find the old wiki. That's really annoying! But there is a info one some pages in the old wiki where to find the new pages (as e.g. here), we need something like that in the new wiki with info where the page was moved. At least as long as this page is empty.
Also the 'google index' is destroyed. If you e.g. search at ...read more...


Top 10 Reasons To Attend San Francisco VMworld 2010

10. The new program: Subject-matter experts in all topics will be presenting Breakout Sessions, leading birds of a feather Discussion Groups, and will be available for One-on-One meetings.




9. Participating in your choice of 480 simultaneous within 30 topics. This year, you set the schedule with labs presented via a self-service Lab Cloud portal. Lab instructors are standing by to help and answer questions.




8. Networking with your peers from acrss the world and across your industry. VMware has more than 190,000 customers, and thousands of them will join you in San Francisco to share their experiences with virtualization and cloud computing.




7. Going to Developer Days and winning an iPad. The covers application development best practices and goes in-depth into building the public and private cloud.




6. Diving deep

...read more...



Вышла первая стабильная версия системы обнаружения и устранения атак Suricata 1.0.0, стандартной IDS с базовыми возможностями. Отличительной чертой системы является то, что она может использовать ускорение NVIDIA CUDA для своей работы.

Возможности и исправления данной версии:

Поддержка DCERPC поверх UDP;
Исправлено поведение, при котором короткие HTTP-сессии не парсились корректно;
Исправлена работа с CUDA, вследствие чего повысилась производительность.




Организация Open Information Security Foundation (OISF), спонсируемая Министерством национальной безопасности США, объявила о выпуске нового движка с открытым кодом для обнаружения вторжений — Suricata 1.0.Новый движок Suricata позиционируется как замена популярному IDS-решению с открытым кодом Snort, созданному в 1998 году. Мэтт Йонкман (Matt Jonkman), президент OISF, утверждает, что проект Suricata призван снять некоторые ограничения, присутствующие многие годы в Snort. По его словам, например, многопоточная архитектура Suricata позволяет добиться высокой производительности на современных многоядерных и многопроцессорных системах, чего так не хватает Snort в современных реалиях.Из других интересных особенностей Suricata отмечается возможность фильтрации по репутации IP-адресов, т.е. п...



Хостинг-провайдер TrueVDS проводит конкурс для востребованных открытых проектов, по итогам которого победителям будут предоставлены серверы для поддержки их основных или вспомогательных сервисов. В основном ориентир идет на проекты свободного программного обеспечения, но могут участвовать также образовательные, культурные или коммуникационные проекты. Всего выделяется 15 грантов различной мощности:

Сервер True40: 2x2560 MHz CPU, 4096 Mb RAM, 128 Gb HDD, 1 год - 1
Сервер True32: 2560 MHz CPU, 2048 Mb RAM, 64 Gb HDD, 1 год - 2
Сервер True30: 1280 MHz CPU, 1024 Mb RAM, 32 Gb HDD, 1 год - 4
Сервер True22: 960 MHz CPU, 512 Mb RAM, 16 Gb HDD, 1 год - 8

Победители определяются по итогам открытого голосования. Подача заявок на участие проводится с 20 по 31 июля. Голосование - c 1 августа по 22 августа. Выдача грантов - c 23 августа.




In my last posting, I mentioned that my notebook eats by far more battery when running Linux / KDE than running Windows 7. Even though I identified (and fixed) that this was due to the switchable graphics (both cards were running and sucking power), I was eager to optimize the power consumption. After some research, I came up with the following solution.

I put several energy-savign tweaks into a script, saved it to /usr/local/sbin/powersave.sh and added an entry in sudoers for it because it requires root privileges. I can run the script now with sudo but without having to enter the root password thus allowing the KDE energy manager Powerdevil to run the script automatically. Therefore, I added the following custom call to the Powersave profile in Powerdevil's settings:
sudo /usr/local/sbin/powersave.sh

This makes KDE call the optimizations automatically as soon as the notebook switches to the Powersave profile.

I adapted the optimizations to a max_performance.sh script that reverts all changes done by the powersave script. This script needs an entry in sudoers, too, ...read more...




Ссылки


Генерация: 0.243 сек. и 39 запросов к базе данных за 0.155 сек.
Powered by SLAED CMS © 2005-2007 SLAED. All rights reserved.